Casualty star Jason Durr: 'The exit door is looming large for David!'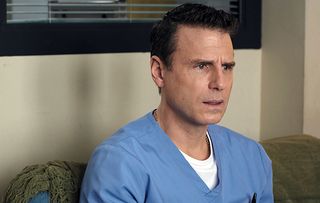 (Image credit: BBC)
Jason Durr reveals Casualty nurse David Hide becomes a victim of circumstance when Charlie Fairhead becomes desperate to protect Duffy
The halo has slipped and it turns out Charlie is no angel! In Casualty last week nurse David Hide came close to uncovering Duffy's dementia secret and, for Charlie Fairhead, the pressure become too much…
Uncharacteristically, Charlie, who's been with the long-running medical drama since its 1986 inception, began aggressively shoving David while they were alone in the staff room.
In an attempt to defend himself, David pushed back causing Charlie (Derek Thompson) to fall just as Jacob, Rash and other colleagues entered the staff room and witnessed normally gentle David "attacking" Charlie!
This week Charlie's misguided desperation to protect Duffy takes him to new lows. In one breath Charlie tells David (Jason Durr) to forget about their altercation, and then reports him to director of nursing Adrian 'Fletch' Fletcher!
We talked to Casualty star Jason Durr, who reveals more…
Warning: Contains spoilers
That was quite a fight scene at the end of last week's episode! Are there repercussions?
"Yes, the rest of the ED team, all they saw was David pushing Charlie over. So of course they jump to certain conclusions."
…Not helped by Charlie reporting David for assault! How does David react?
"David's whole world spins out of control because people make assumptions that aren't true. It's quite distressing for him."
Does David have the presence of mind to defend himself against the allegations?
"It's incumbent on David now to try and make them see sense and understand what actually happened. He will try and fight his cause, but the powers-that-be are up against him. I think he feels a certain resignation that it looks and sounds like people want to get rid of him…"
Do you think Casualty fans will find Charlie's behaviour shocking?
"Well yes, but isn't it great! I love to see the characters do things that are out of character. It's the that old adage of, when under pressure do you break or do you redouble your efforts, actually step up to the plate and become a better man? It's very interesting that some people do, understandably, break under pressure and act out of character, but it's wonderful!"
What do you enjoy about these unexpected twists and turns?
"I'm all for watching, understanding and learning more about characters that we've known for years doing things that are out of character. It's much more interesting.
"Characters normally have what they believe or perceive to be very good reasons, quite often based on shifting sands. They try to anchor themselves somewhere and think that they're doing the right thing."
This is certainly the case with Charlie, but what does it mean for David?
"Unfortunately David is on the receiving end of this slightly skewed wisdom of Charlie's. His decisions mean the exit door is looming very largely for David! The question is, do people see sense in the end?"
Casualty continues on BBC1 this Saturday
With twenty years of experience as an entertainment journalist, Elaine writes for What's on TV, TV Times, TV & Satellite Week and www.whattowatch.com covering a variety of programs from gardening and wildlife to documentaries and drama.
As well as active involvement in the WTW family's social media accounts, she has been known to get chatty on the red carpet and wander into the odd podcast.
After a day of previewing TV, writing about TV and interviewing TV stars, Elaine likes nothing than to relax… by watching TV.
Get the latest updates, reviews and unmissable series to watch and more!
Thank you for signing up to Whattowatch. You will receive a verification email shortly.
There was a problem. Please refresh the page and try again.