Casualty star Cathy Shipton: 'Connie throws Duffy under the bus!'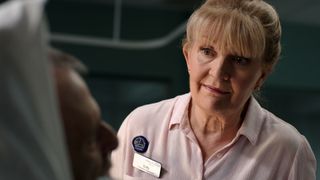 (Image credit: BBC)
Iconic Casualty star Cathy Shipton reveals Connie Beauchamp uses Duffy Fairhead's dementia to frame the legendary nurse…
It's safe to say Casualty's current storylines will be remembered as some of the long-running medical drama's most explosive.
Last week clinical lead Connie Beauchamp made a catastrophic mistake in Resus when she directed nurse Duffy Fairhead to use the wrong syringe on a patient…
Read more about the unforgettable episode here
This week Connie (Amanda Mealing) wrestles with her actions before ultimately deciding to hang iconic nurse Duffy out to dry!
We caught up with Cathy Shipton, who plays Duffy, for more…
Warning: Contains Casualty spoilers!
How does Duffy remember last week's mistake, which has put a patient in intensive care?
Cathy Shipton: "The truth is Duffy remembers it correctly. She's also in the right because clinical lead Connie Beauchamp gave her the bum steer! There were two syringes, Connie told Duffy which syringe to pick up and she picked up the right one. Duffy didn't know the patient she was giving it to wasn't correct."
Read more here about this week's Casualty here
This week Connie goes to great lengths to cover up her error. What can you reveal?
CS: "Connie throws Duffy under the bus! Connie plays on Duffy's decision-making and memory recall of the incident. She plants doubts. Connie pulls Duffy's strings so finely that it's enough for Duffy to just run with it…"
Does anyone believe Duffy's innocent and Connie's to blame?
CS: "Yes, trouble-shooter Ciaran Coulson (Rick Warden). Previously Ciaran doubted Duffy's abilities because of her dementia and suggested she step down, which she did. Since then a role has been created for Duffy where she's removed from diagnostic responsibilities, like drawing up drugs. Now Ciaran's focusing on Connie, but he needs evidence of her inability to be clinical lead. He's counting on Duffy to be his witness, but she doesn't know if she can remember!
Read our fun interview with Rick Warden about his contentious Casualty character here
You've played Duffy since 1986. Was it strange to hang up the uniform for her new role?
CS: "It felt funny to come out of the uniform. But we wanted to remove Duffy from the medical staff and create a new role for her in Holby-land. As an emergency nurse she had a lot of responsibilities. Now Duffy's interwoven with a lot of the guest stars' storylines, which is like a drama shot in the arm for an actor. I've upped my game!"
Are Connie's actions unforgivable?
CS: "Connie could be struck off for what she's doing. But all Casualty characters have faults and flaws. Connie's clearly addicted to anxiety medication and needs help; this isn't her usual behaviour. When Connie was attacked she didn't take long enough off to recover because of the pressure of the job. As clinical lead she has targets to meet. It flags up that the carers don't get any care. It's a very strong story."
How has it been working closely with Amanda on this story?
CS: "When I'm working with Derek [Thompson, who plays Charlie Fairhead] we often drop a line and do it with a look because Charlie and Duffy's relationship is drenched in history and there's so much trust. It's the same with Amanda. It's lovely. Amanda plays this story brilliantly!"
Is Charlie in for a tough time too?
CS: "Definitely. Duffy's got Charlie, but Connie has nobody. In fact, Connie uses Charlie as well!"
What do you love about Casualty?
CS: "When Casualty's creators Jeremy Brock and Paul Unwin sat around the kitchen table and conceived this show, they created a family. The whole crux of Casualty is the seesaw of the lives public servants who park their personal lives to help people. It's a tightrope. I'm proud in my day's work to represent these unsung heroes!"
What do you think would most surprise viewers about life behind-the-scenes on Casualty?
CS: [Laughing] "There's a lot of impromptu singing and harmonising. There's also a lot of throwing shapes and dancing. We had a community twerk the other day and the crew didn't know where to look!"
Discuss with us on Twitter: Will Casualty's current combination of nuanced performances and explosive storylines go down in the show's history as some of its best? #CasualtyChat
Casualty continues on Saturday at 8.25pm on BBC1
Get the latest updates, reviews and unmissable series to watch and more!
Thank you for signing up to Whattowatch. You will receive a verification email shortly.
There was a problem. Please refresh the page and try again.