The Chase's Anne Hegerty reveals the interview that got her 'in so much trouble'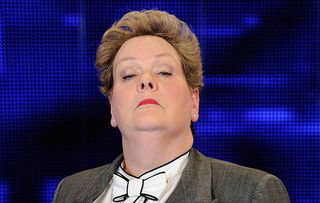 Anne is best known as the Chase's Governess
Anne Hegerty, who has featured as the governess on The Chase since 2010 has revealed that she got into a lot of "trouble" after after appearing on The Wright Stuff in March 2018.
The journalist got into trouble after going head to head with journalist Paris Lees, in a debate that centred around the gender pay gap. Anne started "lashing out", when she said to Paris: "Well, you used to be a boy, you'd know that."
According to reports from a fellow guest, the audience "fell silent" after the remark.
The presenter recently addressed the incident on twitter, replying to a debate about what pronouns should be used to describe those who identify as transgender.
Anne graciously apologised for her remarks, writing: 'Shush, I got in so much trouble for that. It was only because I was short of sleep, overworked and sick of being contradicted.
'I thought Paris behaved with great dignity, actually, and didn't deserve me lashing out.'
At the time, Paris was "shocked" by the situation, telling The Sun: "The whole studio – the audience fell silent. I don't think anyone knew what to say. You could have cut the atmosphere with a knife.
"I didn't make a big deal out of it. I love the show and Matthew [Wright], and I'm sure she didn't mean to be malicious. I hope she didn't mean it to come across the way it did."
She added: "I didn't say anything backstage, but everyone else came and checked I was OK. I'm not easily shaken, I've had worse in my time, but when you're on TV, you don't expect it."
Get the latest updates, reviews and unmissable series to watch and more!
Thank you for signing up to Whattowatch. You will receive a verification email shortly.
There was a problem. Please refresh the page and try again.