Child 44 | DVD review - Tom Hardy's dogged secret policeman hunts for a serial killer in Stalin's Soviet Union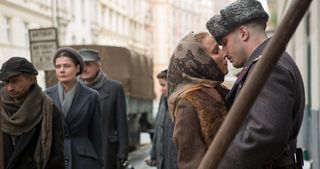 (Image credit: Larry Horricks)
Tom Hardy's tenacious secret policeman hunts for a child murderer amid the paranoia and terror of Stalin's Soviet Union in this adaptation of Tom Rob Smith's bestselling novel, Child 44.
Get past some contrived plotting - and the needlessly thick Russian accents adopted by the mostly British cast - and this 1950s-set crime thriller is grimly fascinating.
Hardy's dogged MGB officer, Leo Demidov, first realises a killer is at large after the son of one of his colleagues is found dead in Moscow. Yet what makes his investigation so challenging – and so perilous for him and his wife (The Girl With a Dragon Tattoo's Noomi Rapace) – is that he is an agent of a state that denies the very existence of murder, a supposedly 'capitalist disease'.
As the Soviet slogan has it, 'There can be no murder in paradise'. Merely to question this dogma is to risk execution as an enemy of the state. And Demidov has a cowardly and conniving MGB colleague, Joel Kinnaman's weaselly Vasili Nikitin, only too eager to point the finger of suspicion in his direction. By the skin of their teeth, Demidov and his wife (whom he has refused to denounce as a traitor) wind up exiled to a remote town rather than dead.
But Demidov doesn't abandon his hunt for the serial killer he believes is preying on young boys, and after he comes upon further evidence tries to enlist the help of his superior, Gary Oldman's conscientious General Mikhail Nesterov (Gary Oldman), to track him down.
Viewed as a police procedural, Child 44 is undeniably sluggish; yet as a portrait of a society warped by fear and ideology, Safe House director Daniel Espinosa's film is genuinely compelling. The acting is solid, too, despite the accents, with Hardy in excellently dour form.
Certificate 15. Runtime 131 mins. Director Daniel Espinosa.
Child 44 is released on Blu-ray & DVD on Monday 24th August by Entertainment One.
http://www.youtube.com/watch?v=Uia6y9SRsj4
Get the latest updates, reviews and unmissable series to watch and more!
Thank you for signing up to Whattowatch. You will receive a verification email shortly.
There was a problem. Please refresh the page and try again.