Emma Willis on hosting The Circle: 'I'm too paranoid!'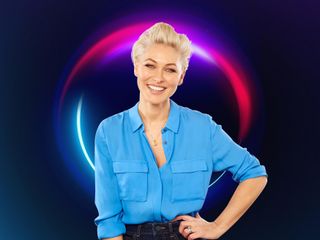 (Image credit: Channel 4)
Emma Willis tells us about taking over as host on C4's reality game show The Circle and why she wouldn't trust anyone
Described as a cross between Big Brother and Black Mirror, reality game show The Circle was a surprise hit for C4 when it first aired last year.
It saw contestants relocated to a newly refurbished block of flats in London, where they weren't allowed to meet in person and could only communicate with each other via the show's unique social media network.
As they competed to be the most popular and avoid being "blocked", contestants mostly played the game as themselves, but some used fake personas to win over their online friends, with 26-year-old Alex Hobern ultimately scooping £75,000 with his alter ego, Kate.
Now, The Circle is back for a second series with a new host, Emma Willis, who's well equipped to take over from series one presenters, Alice Levine and Maya Jama, after fronting Big Brother and The Voice UK.
MORE Big Brother host Emma struggles to hold back tears as she addresses show axe
Players will be competing to win £100,000 this time, plus there'll be weekly live shows as well as a chance for viewers to influence the narrative with a new bespoke app.
We caught up with Emma Willis, 43, to learn more about The Circle series two…
The first series of The Circle was so addictive! Did you watch it?
Emma Willis: "I didn't watch it when it aired, no, because it was Big Brother's rival at the time, but everyone was talking about it. I watched it afterwards and binged it. I loved it!"
Did you see the similarities with Big Brother?
EW: "Well, there's a bunch of people living in a building with a cash prize at the end of it. But I always viewed Big Brother from a social experiment point of view, whereas I think The Circle is very much more a game show and any psychological stuff that comes into it is a bonus."
Apart from a lovely new host, what else can we expect from the new series?
EW: "There's an extended run, plus there'll be a live launch and live final. I'll also be presenting a live show every Friday with a panel, and the audience can get involved with interactive elements that will impact on the players' chances. It'll be more immersive."
Were you surprised Alex Hobern won last series by duping the other players?
EW: "Yes and no, because he played the perfect game. I think the series highlights that you really don't know who you're talking to online."
Do you think players will be more wary this series?
EW: "There'll be much more paranoia, but I think that's brilliant. We should have that paranoia in day-to-day life. Be Paranoid! I am, and I try to instill that into my kids [Isabelle, Ace and Trixie] – always be aware and never fall into a trap or be lured into anything."
Isn't it a bit sad that we feel we can't trust people in this social media age?
EW: "Of course! But unfortunately it's the world we live in, so let's highlight that and make sure people are aware of it. Social media can be positive and helpful, but like everything, there's good and bad, so it's good to be educated on it."
How do you think you'd fare in The Circle?
EW: "I'm too paranoid! I would not trust anyone. I'd also be me, 100 per cent, and if I didn't win, I'd be like, 'I need to change myself as a human!'"
The Circle airs on C4 Tuesday-Friday, times vary
Get the What to Watch Newsletter
The latest updates, reviews and unmissable series to watch and more!
Senior Writer for TV Times, TV & Satellite Week, What's On TV and whattowatch.com
Rebecca has more than 20 years' experience in journalism and is now writing about all things telly-related for TV Times, TV&Satellite Week, What's On TV and whattowatch.com.
She's interviewed all sorts of big-name stars, including Al Pacino, Ewan McGregor, Tom Hardy, Winona Ryder, Benedict Cumberbatch and more. She's also been known to step in front of the camera, dressing up as a 1920s flapper to star in ITV's Mr Selfridge and co-hosting ITV News at Ten with Mark Austin – all in the line of duty!
When she's not quizzing actors, directors and producers, you'll find her bingeing US dramas and anything horror/sci-fi/zombie-themed. But her greatest love will always be Game of Thrones… just don't mention the ending!