Claire Sweeney: 'I've changed completely since my son was born'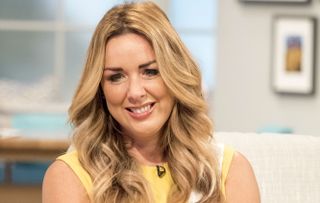 Former Brookside star Claire Sweeney has opened up about how her life has changed since the birth of her son Jaxon two years ago.
Former Brookside star Claire Sweeney has said she sees the world through different eyes now she is a mother.
The West End performer and TV personality, 45, has a two-year-old son Jaxon and said he has transformed her life.
She told Hello magazine: "I've changed completely since he was born. All my choices are influenced by him. My first thought before I do anything is: 'What would be best for Jaxon?'
"I look at the world through different eyes now."
Little Jaxon is even following in his mother's musical footsteps, with Claire revealing: "He loves playing the drums and at home he tries to play my piano, too.
"He talks a lot, copies everything I say and has a sense of humour."
Claire split from her former fiance Daniel Reilly, who is Jaxon's father, last June, but said she is happy without a man.
"When I decide to let a man into my life, he would need to be a good influence around Jaxon," she told the magazine.
"So my ideal partner would be very different to the wild types I used to date years ago; I wouldn't touch them with a bargepole now.
"I've never been married so it would be nice one day but I will never compromise.
"I'm very happy – my life is full of the work that I love, great mates with whom I have a ball, and my little boy, who gives me all the love I need."
Last year Claire opened up about how she feared she would never become a mother after going through the heartache of two miscarriages and undergoing several rounds of IVF treatment.
In an interview with the Mirror in September 2015, Claire said: "I suffered two really heart-breaking miscarriages before Jaxon was born. Nothing prepares you for the sense of loss but I was determined to keep trying."
Get the latest updates, reviews and unmissable series to watch and more!
Thank you for signing up to Whattowatch. You will receive a verification email shortly.
There was a problem. Please refresh the page and try again.