Clare Balding: 'I feel like American royalty after Who Do You Think You Are?!'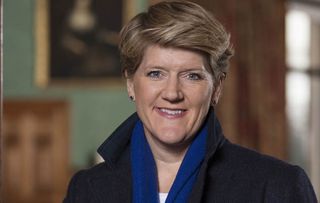 (Image credit: BBC/Wall to Wall Media Ltd/Steph)
Clare Balding describes how she has unearthed a hidden family secret and some remarkable Stateside roots
When Clare Balding takes centre stage in next week's Who Do You Think You Are? (Thursday, July 20) she investigates whether her maternal great-grandfather, MP Sir Malcolm Bullock, was secretly gay and uncovers some wealthy American ancestors.
Clare opened up to TV Times about her family's colourful history…
Why did you suspect that your great-grandfather Malcom (below) was gay? "Well, I was interested in Malcolm because there had been whispers about him in the family and things might have even been said in Parliament because he was an MP, so it was intriguing. But it was frustrating because my grandmother had burned some of his letters. She was a forceful woman and I wonder whether the shame associated with Malcolm contributed to her later homophobia."
You eventually tracked down the letters of his possible lover, Rex Whistler, and discovered they used to attend parties at a Kent country house where illicit couples got together away from prying eyes. What did you make of that? "It was a fascinating other world where they wouldn't be judged. I've no doubt that Malcolm was gay or bisexual and I know he was heartbroken when his relationship with Rex was broken off. Malcolm was also very protective towards other people who might be criminalised at that time because of their homosexuality. It is so interesting because today there is still prejudice, but we have taken a massive leap forward. I wish I could've met Malcolm."
You were also interested in Malcolm's wife, your great-grandmother Lady Victoria Stanley, as you have a painting of her in your house. What did you learn about her? "I assumed they had a marriage of convenience if he was gay, but I discovered that they really loved each other. Her letters made me look at the painting differently because they were hysterical; she was fabulous. But I also found a letter that her father had written to Malcolm after her death in a riding accident and I choked up because it's rare to see male emotion expressed in that era, it was incredibly moving."
You also looked into the ancestors of your dad Ian's mother, Eleanor Hoagland. How did your dad feel about that? "Dad was surprised I wanted to follow the Hoaglands because he thought they were boring! Like many men, he believes that only the males in the family are interesting! But all the Baldings were horse trainers or dealers so there wasn't a lot of scope to find out about them."
It turned out that the Hoaglands were descended from the original Dutch settlers who arrived in the New York in the 17th century. Were you surprised? "Oh it was amazing to imagine what life was like for those Dutch settlers. I've never really thought about myself as American or of our family being long established there, but now I feel like American royalty! Eleanor's father Joseph also built one of the first apartment blocks in New York and had the vision to see that was how people would live. I've always loved New York, but I never realised that my family lived such a fancy life there."
Your great-great-great grandfather, also called Joseph Hoagland, originally built up the family fortune in the 19th century by founding the Royal Baking Powder company. Are you doing more baking now?! "No! But the team who make the show found a Royal Baking Powder tin on eBay for me and it's now on my mantelpiece in my study. It is so cool!"
You also host Channel 4 documentary When Football Banned Women this week, which examines what led the FA to put a stop to the women's game in 1921. What did you discover? "During the First World War, women's football was encouraged to boost morale and hundreds of teams were formed from the girls in the munitions factories. They'd draw crowds of up to 60,000 fans, but the FA banned it partly because it was seen as revolutionary. It was challenging the established idea that women were meant to be subservient. So when men returned from the war and resumed their game, the FA said it was physically unsuitable for women.
"I emailed my second cousin, the Earl of Derby, to ask his archivist whether the then Earl was supportive of one of the big women's teams, Dick Kerr's Ladies in Preston, because they played in his neck of the woods and I was thrilled to find out he was."
How has that ban affected the women's game in 2017? "The women's game is still suffering now. Today's players are still fighting their way back from the ban, which lasted half a century. This week's European Championships are a big chance for women's football to make its mark… The match on Wednesday is between England and Scotland and if people aren't interested in that then I'll be disappointed."
Who Do You Think You Are? screens on Thursday, July 20 on BBC1 at 9pm When Football Banned Women screens on Tuesday, July 18 on Channel 4 at 10pm
Caren has been a journalist specializing in TV for almost two decades and is a Senior Features Writer for TV Times, TV & Satellite Week and What's On TV magazines and she also writes for What to Watch.
Over the years, she has spent many a day in a muddy field or an on-set catering bus chatting to numerous stars on location including the likes of Olivia Colman, David Tennant, Suranne Jones, Jamie Dornan, Dame Judi Dench and Sir Derek Jacobi as well as Hollywood actors such as Glenn Close and Kiefer Sutherland.
Caren will happily sit down and watch any kind of telly (well, maybe not sci-fi!), but she particularly loves period dramas like Call the Midwife, Downton Abbey and The Crown and she's also a big fan of juicy crime thrillers from Line of Duty to Poirot.
In her spare time, Caren enjoys going to the cinema and theatre or curling up with a good book.
Get the latest updates, reviews and unmissable series to watch and more!
Thank you for signing up to Whattowatch. You will receive a verification email shortly.
There was a problem. Please refresh the page and try again.