Cold Feet 2016: TV Times' NINE things that MUST happen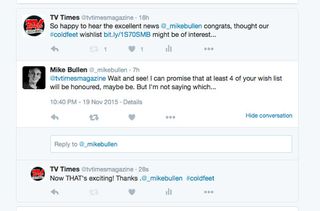 Classic ITV drama Cold Feet turned its stars – James Nesbitt, Helen Baxendale, Fay Ripley, John Thomson and Robert Bathurst – into household names and made us laugh, cry and go a bit wibbly throughout its five years (1998-2003) on screen.
And now, 13 years after its final episode, Cold Feet is making a comeback in 2016.
So please find below 9 things TV Times would like to see in next year's new series…
And what does Cold Feet creator Mike Bullen think of TV Times helpful suggestions, you may ask...
Which four do you think Mike will use? Let us know below in our comments section....
1 Rachel Bradley RIP
Played by Helen Baxendale, Rachel died in series four, leaving Adam (James Nesbitt) to bring up their son Matt alone. One of the shows strengths was its realism, so, please ITV, no ridiculous dream sequences.
2 Jenny and Pete together
Fay Ripley has revealed that her character Jenny Gifford is still friends with husband Pete (played by John Thomson). They weathered so many storms, it can only have made their relationship stronger.
3 A poor and destitute David
We would love insufferable yuppie David Marsden to feel the full force of the credit crunch. The more he suffers, the better as far as we're concerned...
4 David and Karen at war
Arguments between David and ex-wife Karen (Hermione Norris) were always top entertainment. They had three children at the end of series five so there'll be plenty to fall out about.
5 The return of Ramona
Played by Jacey Sallis, Ramona Ramirez was the indefatigable spanish nanny to the Marsden kids – maybe she could be now dating one of them now just to wind David up!
6 New characters
Pete's second wife Jo Ellison (Kimberley Ellison) didn't come along until series four but still managed to have a huge impact, and a couple more odd bods would shake things up nicely…
7 Grey hairs, wrinkles and hot flushes
They should all be facing mid-life challenges (failing health, ageing parents, diminishing employment prospects etc) by now – with hilarious and complicated consequences!
8 Jenny as a ball-breaking entrepreneur
Jenny jacked in a great job in America to get back with Pete but we're sure she didn't leave her ambition on the other side of the Atlantic...
9 Adam's dating disasters
We loved Adam The Romantic – classic rose-in-bum scene and all - and bet he's been a great dad to son Matt, so no middle-aged bitterness please but a disastrous dating storyline would be perfect…
COMPILED BY SALLY BROCKWAY
Get the latest updates, reviews and unmissable series to watch and more!
Thank you for signing up to Whattowatch. You will receive a verification email shortly.
There was a problem. Please refresh the page and try again.