Coronation Street star Alan Halsall on why he didn't speak to his co-stars for a year!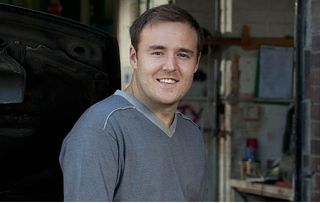 After 20 years on Coronation Street, Alan Halsall has become a firm favourite with soap fans as mechanic Tyrone Dobbs, but rewind to when he first joined the show and the actor was just a shy 16-year-old...
These days Tyrone Dobbs is as much a part of Coronation Street as a pint of Newton and Ridley's. And on Friday 30th November, actor Alan Halsall will have notched up exactly twenty years on the soap. 
But while the 36-year-old might now be one of the more seasoned actors on the cobbles, that hasn't always been the case...
Alan recently told us about what it was like to join such a huge show like Corrie: "It's surreal that I've been here for so long. It's such an odd thing – I appreciate that it's been twenty years but I also remember my first day like it was yesterday.
"Because I was 16, I was put straight into the adult green room. It was really daunting to see these people who were all legends; I was literally terrified! I'm normally quite loud, but I don't think I spoke for about a year!"
Two particular cast members went on to have a huge influence on Alan's life. As the fictional Tyrone was taken under the wing of Jack and Vera Duckworth, off-screen the now late actors Bill Tarmey and Liz Dawn became Alan's pals and mentors.
Alan told us: "I genuinely believe that I wouldn't be on the show now if it wasn't for the both of them. Work-wise and in my personal life, they were real guides for me, and I owe them so much.
"Bill would give me advice practically every day... usually followed by a clout round the ear! He'd go on and on about pension schemes. And his line was: "If you're on time, you're late" because he would always be ten or 15 minutes early to get prepared. So I've always lived by that.
"Liz was very doting. I'd get the stern advice from Bill and she'd be the one with her arm around my shoulder."
But what does Alan think he will be doing in another 20 years time? Will he still be playing Tyrone, fixing cars in a garage?
"As an actor, that's not a decision I get to make. But I'd like to think so. Tyrone's a home bird and he's very settled.
"I'm very humbled to be a small part of this show, which is the biggest thing on television. If you're enjoying a job and you get so much from it, why change?"
Coronation Street airs on Mondays, Wednesdays and Fridays at 7.30pm and 8.30pm on ITV.
Picture credits: Bill and Alan: Eamonn and James Clarke/EMPICS E, all others ITV.
Get the latest updates, reviews and unmissable series to watch and more!
Thank you for signing up to Whattowatch. You will receive a verification email shortly.
There was a problem. Please refresh the page and try again.