Coronation Street fans spot HUGE mistake as Stephen kills again
Coronation Street viewers think murderous Stephen is about to be found out!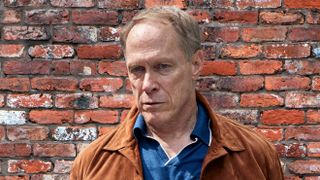 (Image credit: ITV)
Coronation Street fans have pointed out Stephen Reid made a HUGE mistake when he killed poor Teddy Thompkins, that could lead to his murderous rampage on the cobbles being brought to an end.
Phew!
Fans reckon Stephen's plan to dispose of unfortunate Teddy could be the thing that finally exposes him as the latest Corrie killer, thanks to one silly mistake.
But are they right?
This week, Stephen was alarmed when Teddy's memory started to return.
He began remembering snippets of his trip to Canada and when Billy mentioned that he wished he had been able to track Summer's phone, it triggered the rest of Teddy's memories.
Last night, Teddy confronted Stephen - again - and told him he thought he'd done something terrible to his son.
Stephen tried to make excuses, telling Teddy he didn't want him to get hurt by Leo's rejection.
But Teddy wasn't convinced - so Stephen whacked him over the head and killed him.
Having been almost caught by Michael Bailey, Stephen managed to brazen it out with Teddy's body lying on the floor of the factory.
He might not be the slickest serial killer the cobbles have ever seen, but he's certainly the luckiest!
Left with another body to dispose of, Stephen decided the best way to get rid was to stuff Teddy into the roof box of Audrey's car.
But he couldn't lift the box alone, so he got help from Kevin, Abi and Tim.
They hauled it on to the car roof and Kevin declared it "all secure".
But the Corrie fans begged to differ! They reckon the roof box was simply plonked on top of the car.
And that wasn't the only mistake Stephen made.
He was cornered by Jenny, who reckoned he'd been nicking sewing machines from the factory.
And when he finally escaped from her interrogation, the car was gone!
Sarah told him Audrey had taken it as she was off to see her friend Bev in the Peaks.
Oops!
So could this be the mistake that finally gets Stephen caught? The viewers reckon so. They think the roof box could slide off Audrey's car, exposing the grisly cargo inside.
One fan even came up with a more gruesome theory about what could happen next, suggesting Teddy might not be dead.
"Audrey will hear him knocking from the roof box," he wrote!
Could this be the mistake that finally exposes Stephen's killing spree?
Coronation Street usually airs on Monday, Wednesday and Friday at 8pm on ITV. Check our TV Guide for more information.
Get the latest updates, reviews and unmissable series to watch and more!
Kerry is a writer, author and editor with a lifelong love of the soaps, a passion for TV drama of all kinds, and an obsessive devotion to Strictly Come Dancing.
She was features editor of All About Soap magazine for more than a decade, covering every bit of excitement from all the UK soaps and the Aussies and still writes about all the juiciest gossip from the Street, the Square and the Dales whenever she can.
Kerry's also an author of historical fiction, and her two jobs collided when she got the chance to write two novels based on Emmerdale, and the Sugden, Tate and Dingle families, during WW2.
Thank you for signing up to Whattowatch. You will receive a verification email shortly.
There was a problem. Please refresh the page and try again.