Corrie's Chris Gascoyne reveals the best Christmas present he's ever had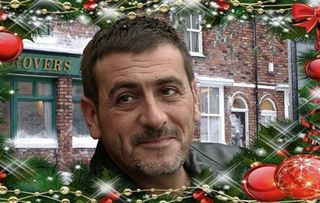 We asked Coronation Street star Chris Gascoyne some fun questions about the kind of Christmas he will be having this year!
We're getting an idea of what sort of Christmas Corrie's Peter Barlow will be having – one full of drama involving his ex Leanne (Jane Danson) and her new man Nick (Ben Price).
But what sort of Christmas is looming for Chris Gascoyne, who plays lovable rogue Peter? And what makes Christmas special for him? Here's what Chris revealed…
What are your plans for this Christmas? "I will just be having a quiet Christmas with all my family."
What does Christmas mean to you? "It's memories isn't it, really, once you get to a certain age? It's also a nice time to be with your family. I do really like Christmas and it reminds me of when I was young, spending time with my family and, of course, you miss the people who aren't here any more. It's a time for reflection."
What is the best Christmas present you have ever received? "It was a football game called Subbuteo in the 1970s and I loved it. Another boy who lived down the road from me had it for quite a while before me, so I was just thrilled when I got that."
What will you be watching on TV this Christmas? "I'm not sure yet because I haven't got my TV mag! I like to go through it and ring all the programmes that I want to watch – that is how boring I am! I love all the television programmes at Christmas and I'll be watching Coronation Street on Christmas Day."
What is your secret to a stress free Christmas? "Break it up a bit as you don't have to be together all the time. Go and do something else: go out, go for a walk, do other things. But I don't think there is any such thing as a stress-free Christmas, is there?"
Coronation Street, ITV
Get the latest updates, reviews and unmissable series to watch and more!
Thank you for signing up to Whattowatch. You will receive a verification email shortly.
There was a problem. Please refresh the page and try again.