Couch Potato at the Cinema: London Lesbian & Gay Film Festival - Tears, Tea and Tennessee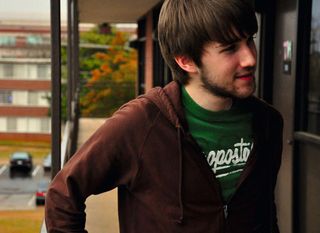 Tennessee - the home of rhinestones, big wigs and Dollywood. Sounds like a drag queen heaven doesn't it? But that's far from the truth - if two of the films shown today at this year's London Lesbian & Gay Film Festival (LLGFF) are anything to go by.
No, according to the movies I've just seen, Tennessee is an American state packed with abusive Christian parents who send their gay kids to camps to turn them 'straight'. It's also the home of a country music industry so homophobic that it drove one singer to place a gun in her mouth.
However, before I tell you more about these movies, I feel compelled to jump to Tennessee's defence a little. You see I went there a few years ago and totally embraced the gay scene. Yes there is one - there always is, you just have to hunt it down (although I must say that drag queens are pretty much non-existent there - but who can compete with Dolly eh?).
Now, I'm aware that as a tourist from the UK I was lucky. I was only visiting and I was already happy in my sexuality. Had I been born there - or attempted to set up my life there when still young - things would undoubtedly have been very different. In fact I can say with some certainty that I probably wouldn't be here now.
And it's this unsupportive - nay abusive - attitude to young gays and lesbians that is exposed in the two LLGFF documentary films This is What Love in Action Looks Like and Wish Me Away.
The subject of the Love in Action movie is 16-year-old Memphis boy Zach Stark who in 2005 plucked up the courage to tell his parents that he was gay only to have them send him to Love in Action - a camp designed to turn gays and lesbians into heterosexuals.
Thanks to Zach's blog, this news was picked up by his friends and went viral, resulting in pickets outside the facility's headquarters, press interest, and investigations into the organisation.
This documentary features interviews with other former Love In Action members and staff and explores the brainwashing that goes on, as well as telling Zach's extremely moving story.
The other doc - Wish Me Away - is a personal story by country singer Chely Wright - a blood, sweat and tears video diary about her coming out journey.
Back in the 1990s, this singer (relatively-unknown here in the UK) was topping the Country Music charts with hits like Shut Up and Drive (1997) and Single White Female (1999). She was known for dating Country Music stars such as Brad Paisley. She was also voted into People's 50 Most Beautiful People in 2001 and FHM's 100 Sexiest Women of 2002.
But, her conventional heterosexual songstress image was just a facade. Behind the scenes Chely was secretly grappling with love affairs with a number of Nashville http://youtube.com/v/j-v4K8pRQ74 Top 10 Country Music Movies.
However, it is a shame that Chely Wright's bravery didn't rock the Country Music industry into changing its attitude. I guess she just wasn't big enough. But it makes you think -how big do you have to be? The community is stuck in its ways and anyone who dares to break the rules knows about it pretty quickly. You only have to look at the Dixie Chicks who were rejected in 2003 for speaking out against George Bush.
Needless to say, it's significant (and somewhat sad) that even those big names like Dolly and Miley who do offer their support for LGBT communities do so relatively quietly and selectively to avoid upsetting the country music applecart too much. What will it take to broaden the narrow minds in this area of the US?
So before you go, and while you're still thinking on that, I suggest you make yourself a nice cup of tea and give some thought to this problem:
Both Zach and Chely went through so much suffering to simply be themselves. This shouldn't be allowed to happen. There needs to be more awareness of how difficult it can be for some gays and lesbians. Glee made massive in-roads this week with its gay suicide storyline, but that show's setting is midwestern state Ohio http://youtube.com/v/ur-nUamaeHI Discuss these films on our Movie Talk Facebook page or Movie Talk Twitter stream
By the way, you may also want to check out The Trevor Project - an American organisation focused on preventing suicide among LGBT teenagers (and hugely supported by Daniel Radcliffe)
This is What Love In Action Looks Like is released on DVD by TLA Releasing on May 28th
Get the latest updates, reviews and unmissable series to watch and more!
Thank you for signing up to Whattowatch. You will receive a verification email shortly.
There was a problem. Please refresh the page and try again.