Couch Potato Pickings: I should find Nanny McPhee & the Big Bang a real turn off, but I've found 8 things to like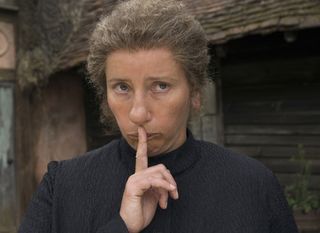 Spoilt and unruly kids screaming in their high pitched little voices is my idea of hell. So a film filled with them shouldn't have any appeal whatsover, but strangely this one does. Here's why:
1. Nanny McPhee & the Big Bang is a film about a nanny who uses her experience/training/wisdom/magical powers to transform brats into angels. What's not to like about that? Haven't you seen Supernanny?
2. It's set in 1940s England where Nanny McPhee steps in to helps a wife and mother (Maggie Gyllenhaal) who's struggling to cope with her farm and unruly kids while her husband is away at war. Being a family film means it's partially aimed at children and contains a number of very silly, juvenile scenes. But I like the fact that I can overlook these small irirtations thanks to the presence of the wonderful Emma Thompson as Nanny McPhee.
3. As well as starring in this and the first Nanny McPhee film, Emma Thompson wrote the screenplays. Such a talent. She can't do anything wrong in my eyes (well, apart from that unfortunate sketch show she made in the 80s). She's one of my favourite actresses, and I particularly love that she's not too proud to turn herself into a hideous hag for this film, and its prequel.
4. I find it amusing to see the way Nanny McPhee's ugliness mirrors the ugliness of the kids' behaviour - fading as the youngsters turn into decent human beings.
http://youtube.com/v/kokz6j53Zhs
8. This film is a sequel, but you don't need to see the first film to appreciate this one. There are rumours and hints that there may be a third sequel.
Nanny McPhee & the Big Bang is showing today - 28th February- on Sky Movies Premiere at 5.30pm, and at various times throughout the week.
Discuss this film on our Movie Talk Facebook page or Twitter stream
Get the What to Watch Newsletter
The latest updates, reviews and unmissable series to watch and more!