Couch Potato Pickings | Mad Max Beyond Thunderdome - Tina Turner and other singer/actresses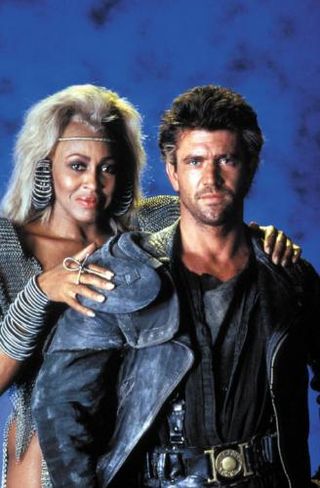 When you look up Tina Turner on Wikipedia, she's described as a singer and an actress. Now, of course that's not incorrect. Tina has starred in Mad Max Beyond Thunderdome - that post-apocalyptic action thriller sequel co-starring Mel Gibson. She plays Aunt Entity - the ruthless ruler of Bartertown. It is albeit an unforgettable role, but this is pretty much Tina's only big screen performance, so she's much better known as a singer than she is an actress.
And that's got me thinking. What about all those other singer/actresses out there? Which stars can call themselves both a singer and an actress? Who is more actress than singer? And, who is much more a singer than she is an actress?
Cher has bagged multiple awards including an Oscar, Emmy and a Grammy. She's most certainly a singer and actress in equal measure.
Barbra has bagged an amazing array of awards, including two Oscars, four Emmy Awards and eight Grammies. An outstanding singer and an amazing actress.
The Divine Miss M is also undeniably a singer and an actress in equal measure. She has three Grammies, three Emmy Awards and was nominated for two Oscars.
There's no doubt that Beyoncé is more a singer than an actress and so far her most memorable screen roles have all had a musical slant. Will she prove herself as an actress in the future? Only time will tell.
If you'd asked me about Jennifer Lopez ten years ago, I'd have defined her as more singer than actress. Now? More actress than singer.
She's one of the world's best selling music artists, but she's also a Razzie Award winner for her performance in The Bodyguard. In fact Whitney's performance in this movie was totally eclipsed by her cover of Dolly Parton's I Will Always Love You on the movie's sountrack. I think she's definitely more singer than she is actress.
Speaking of Dolly, this southern songbird has been starring in movies since her Nine to Five debut in the early 80s. But can she act? Isn't she just playing Dolly Parton under a series of different character names? Let's face it we're never going to see Dolly roughing it in a role without the heels, the hair and the handfuls of make-up. She's much more singer than actress.
http://www.youtube.com/watch?v=e-6ds7QiEww&fs=1
After making a name for herself as a singer in the 80s, Madonna starred in Desperately Seeking Susan, basically playing herself under a different character name. Since then she's had further acting roles, but, with the exception of Evita, she's left most of us cold. With multiple number one singles under her belt, Madonna is hailed as the top-selling recording artist of all time. Definitely more singer than actress.
R&B queen Maria has been bagging music accolades since the early 90s, but her first film role in Glitter in 2001 won more criticism than praise. She's more singer than actress, but following her surprisingly accomplished performance in 2009's Precious, she's proved she has what it takes to make it in movieland.
Debbie Gibson http://youtube.com/v/fNbR3dssDHs Mega Shark Vs Giant Octopus, but let's face it Debbie Gibson will always be a 1980s pop princess.
Mad Max Beyond Thunderdome is showing today 5th October on ITV4 at 9pm
Mega Shark vs. Giant Octopus is showing today on Syfy at 1.10am
The Bodyguard is showing tomorrow 6th October on ITV1 at 10.35pm
Get the latest updates, reviews and unmissable series to watch and more!
Thank you for signing up to Whattowatch. You will receive a verification email shortly.
There was a problem. Please refresh the page and try again.