Couch Potato Wedges - Dipping into some lesser-known Love Actually trivia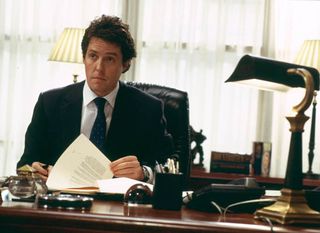 Love Actually features the lead actors from another well-known movie. I'll leave you pondering that thought. More on that later...
Can you name all of the Love Actually cameos? No doubt you can reel off Claudia Schiffer, Rowan Atkinson, Denise Richards, Billy Bob Thornton. And with some more thought you can probably come up with Shannon Elizabeth, Parky, Ant & Dec and Jo Whiley. But did you know that soul singer Ruby Turner stars as schoolkid Joanna's mother? And, did you spot French actress Jeanne Moreau in the scene at Marseilles airport?
Are you aware that writer/director Richard Curtis always makes a mockery of a character called Bernard in his films and sitcoms?
Four Weddings and a Funeral has David Hague's buffoon-like Bernard marrying Lydia in the second wedding. In Bridget Jones's Diary Dominic McHale's Bernard also falls victim to that fancy dress party mix-up. In Bean, there's Sandra Oh's Bernice. In Notting Hill, Hugh Bonneville's Bernie bumbles his way through numerous social blunders with actress Anna Scott (Julia Roberts). I have to admit that I can't find an obvious Bernard in The Boat That Rocked, but I'm now going to have to revisit it. I bet there's one in there somewhere.
And then there's the TV shows. In Blackadder, Nursie's real name is Bernard. And in The Vicar of Dibley, five of Alice and Hugo's children are named Bernard.
So where is the Bernard in Love Actually?
Well, it's actually Bernie - the son of Karen (Emma Thompson) and Harry (Alan Rickman) - played by William Wadham. But this character appears to escape the Curtis mockery because his big scene was deleted.
Here it is:
http://www.youtube.com/watch?v=GsD-6LHgN90&fs=1
By the way, the reason for Curtis's obsession with this name is apparently because he had a love rival called Bernard in his younger days.
Did you know that there was another love story planned for this episodic film featuring the Anne Reid character from the above clip?
Here it is, complete with Richard Curtis's explanation for its deletion:
http://www.youtube.com/watch?v=_ao_heePixQ&fs=1
Such a shame it didn't stay in. I'd have picked that above the silly Colin Frissell (Kris Marshall) and the American girls sketches any day.
Actually watching Love Actually:
It's essential festive season viewing in my household. Check out my favourite Love Actually moments here.
If you haven't yet watched Love Actually this Christmas, then check it out tonight, Thursday 30th December, on ITV2 at 10.45pm.
And finally, the answer to my opening teaser - which big movie shares its four lead actors with Love Actually?
Sense and Sensibility is the answer. Clearly Hugh Grant, Emma Thompson and Alan Rickman star, but remember, Kate Winslet also features in that scene where Daniel (Liam Neeson) and Sam (Thomas Sangster) act out the 'I'm the King of the Waves' scene from Titanic!
Get the latest updates, reviews and unmissable series to watch and more!
Thank you for signing up to Whattowatch. You will receive a verification email shortly.
There was a problem. Please refresh the page and try again.