Dancing on Ice favourite Jake Quickenden: My struggle with sleep paralysis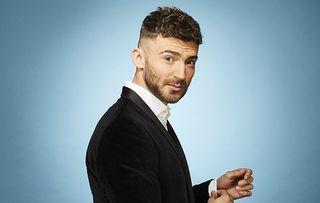 (Image credit: ITV)
Jake Quickenden also spoke about his dislocated thumb and how it won't stop him from taking part in this weekend's final
Dancing on Ice finalist Jake Quickenden has spoken out about his experiences with sleep paralysis.
The 29-year-old star, who's a big favourite with the bookies to take the Dancing on Ice title, revealed his battle sleeping and said that when he wakes up he can't move.
Speaking as part of Lorraine's Sleep Revolution, Jake said: "I always struggle sleeping. Sometimes, when I'm over tired, or I've been on my mobile phone all night and I'm looking at that, I kind of wake up but I can't move...I'm basically paralysed. My eyes are open but I can't speak, and you're still in a dream. Its really weird, it's quite scary."
Jake added that he was a "night owl" who could only sleep four or five hours per night. "I'm a night owl, definitely. I wake up sometimes in the middle of the night and go down and make myself a cup of tea, which is the worst thing, and eat a full pack of biscuits, and then go back to bed at like three."
Explaining sleep paralysis, Dr Hilary Jones said: "What happens is, you're aware, you're awake, but you're still in a bit of REM sleep - dreaming sleep. So literally you cannot move, your body is paralysed, but you're aware, and sometimes you can't breathe. Hallucinations, you can hear things, see things that aren't really there. And it's when you're coming out of sleep or going into sleep."
Meanwhile, Jake's preparations for this weekend's Dancing on Ice final on ITV has been hit by the fact that he has dislocated his thumb. However, he reassured fans that he would be taking part.
"I dislocated my thumb yesterday...It's a lot of fuss over nothing...It's all precautionary, I'll be fine, even if they had to put a pot on it, I'd still be dancing in the final...I've come this far, I don't want to not dance in the final."
Lorraine, ITV, is shown weekdays 8.30am - 9.25am.
Get the latest updates, reviews and unmissable series to watch and more!
Thank you for signing up to Whattowatch. You will receive a verification email shortly.
There was a problem. Please refresh the page and try again.