David Hasselhoff to star in new Baywatch movie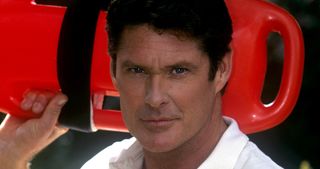 (Image credit: EMPICS Entertainment Archive)
It was one of the biggest TV hits of the 1990s and ran for more than 10 years until it was cancelled in 2001, but Baywatch is set to return.
Fans of the show will already know that a movie version of the US lifeguard drama has already started in Boca Raton, Florida, with Dwayne "The Rock" Johnson starring as Mitch Buchannon, the character played by David Hasselhoff in the orginal series. Also on board are heart-throb actor Zac Efron and Bollywood star Priyanka Chopra.
Although Hasselhoff won't be reprising his role as Mitch, it's been revealed that he will still be making an appearance in the film, but it's not known what role he'll be playing.
The news was announced in a video which showed Johnson talking to Hasselhoff via FaceTime and was posted on the wrestler-turned-actor's social media accounts.
Under the video, Johnson: "Baywatch is the most successful TV show of all time and, from the day we announced we were turning it into a movie, The Hoff has been our greatest supporter, especially once he knew our movie was going to be a combination of Avengers meets Anchorman.
"Hoff's a cool dude who's down to have fun and here's the best part: he's been training his a** off and gotten in the best shape he's been in in years."
The show, which followed a group of lifeguards patrolling the beaches of Los Angeles, ran for 242 episodes between 1989 and 2001. It became known for its slow-motion shots of the cast running around the beach wearing red swimwear, and was parodied by Dawn French and Jennifer Saunders in their BBC1 sketch show.
When the show began, it was cancelled after one series but after being picked up by another network it became one of the most watched shows in the world. In 1999, the series was given a complete overhaul and was renamed Baywatch Hawaii.
The film is due for release in May 2017.
Thank you for signing up to Whattowatch. You will receive a verification email shortly.
There was a problem. Please refresh the page and try again.