David Walliams had to slap Jack Whitehall hard a number of times – all in the name of comedy!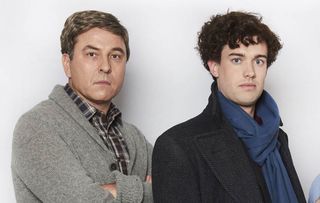 (Image credit: BBC/King Bert/Ray Burmiston)
David Walliams had a ball filming a full series of his BBC1 sketch show Walliams & Friend with a string of big name pals
After entertaining six million of us last Christmas by teaming up with the absolutely fabulous Joanna Lumley for a one-off sketch show, David Walliams is delighted to be returning to our screens for a full series of BBC1's Walliams & Friend.
Filmed on location and in front of a live studio audience, the six-part series sees the comedian and BGT judge joined by a different friend each week. On the bill are Jack Whitehall, Harry Enfield, Sheridan Smith, Miranda Richardson and Meera Syal. It culminates in a cracking Christmas special featuring Downton Abbey's leading man Hugh Bonneville.
Here, David, tells us what's in store…
How did you find working on a full run of Walliams & Friend? "I really enjoyed the process because it's working with different people with different energies, and you write differently for different performers [David co-writes the series with the Dawson Brothers]. It also meant I never got bored of anyone because I only had a week with each person to make that episode."
Did any of the Friends make you laugh when you shouldn't have during filming? "Harry Enfield was very naughty. Obviously he's such a natural in front of the audience, but he had me in hysterics all the time. Jack Whitehall was naughty, too. Well, OK, I was naughty to Jack! During filming one sketch, I had to slap him quite hard a number of times. But he enjoyed it, I'm sure!"
Was it fun working with Sheridan Smith? "She's fantastic. We worked together in 2013 in the play A Midsummer Night's Dream in the West End for about five months so we know each other very well. For me, she is the new Julie Walters. She has this brilliant vulnerability in her performances, which makes you feel quite emotional towards her. So with the writing we could be quite ambitious, as we knew she could carry it off."
Do you have favourite sketch? "There's a spoof of Who Do You Think You Are? called Who Does One Think One Is? in which Harry plays the Queen. The premise is she doesn't realise she's related to anyone famous. It's very silly, and Harry's so funny as the Queen. I'm very proud of it. The Jeremy Kyle Show sketches featuring middle-class disputes - such as arguments about hedges and whether people had bought or baked a cake, were also fun to do."
We love the reoccurring Celebrity Slammer sketch, which sees David and other celebs banged up for years in the name of entertainment. That could actually be a real show! "(laughs) We're not far off that actually! That was joyous because I got to work with some performers I genuinely love such as the Chuckle Brothers, who are absolutely hilarious and great guys. It's quite a believable concept that there is a reality show where people are locked in a prison and never going to get out. 'Vote Life if you want the Chuckle Brothers to stay in forever!'"
Watch Walliams & Friend featuring Jack Whitehall on Friday, November 25 on BBC1
Get the latest updates, reviews and unmissable series to watch and more!
Thank you for signing up to Whattowatch. You will receive a verification email shortly.
There was a problem. Please refresh the page and try again.