Do All American's Olivia and Spencer get back together after her gutsy confession of love?
At the very least, her passionate speech left fans in tears.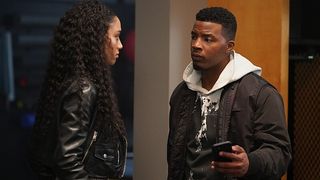 (Image credit: Troy Harvey/The CW)
We won't pretend All American season 5 hasn't been a rocky one for Olivia and Spencer. Fans that have been keeping up with the episodes know the pair went from being the Romeo and Juliet of the show to two people who can't be around each other without things getting awkward. However, even in their uncomfortable post-breakup space, it was clear they still loved each other very much. For many viewers though, that love was starting to look like it wouldn't be enough to reunite them as Spencer moved on with Alicia (Pauline Dyer) and Olivia was trying to explore something with Noah (Tyler Parks).
Then in "Feel It in the Air," which aired on January 30, the episode ended with Oliva telling her mom she still loves Spencer and wants him back. This obviously gave supporters of #Spelivia hope that the two were on the road to reconciliation.
Fast forward to the February 6 episode titled "O.P.P." With a mission of getting her man back, Olivia knew she had to somehow split up Spencer and Alicia. Thankfully for the Baker twin, an opportunity to get closer to her ex presented itself in the form of a charity date auction to raise money for Jamie (Miya Horcher). The guys of the infamous "Vortex" agreed to allow people to bid for the chance to go on a date with them. When it came time for bidding on a date with Spencer, Olivia made a bold move and went toe-to-toe with Alicia in the auction process and outbid her (not exactly the most subtle move on Olivia's part).
While on their date, the exes laughed and talked through Spencer's current tiff with Billy Baker (Taye Diggs) over the GAU coaching job. But Olivia chickened out when it came to telling the football player she loves him. Viewers started to think Olivia would waste all her chances to share her feelings.
By the end of the episode, by coincidence, Spencer and Olivia ran into each other at Billy's home. Taking it as a sign, the younger reporter put her heart on her sleeve and told her ex in a passionate speech that she wants him back. He was left speechless and didn't offer a reply. Not that Olivia gave him much time to respond considering she then quickly left the house.
With the confession of love put out in the atmosphere, does that mean the show couple is back together? Not yet at least. Again, Spencer didn't say he wanted his ex back and he still has a girlfriend. Fans will have to tune in Monday to see what happens next.
All American's Olivia leaves fans with lots to talk about after her confession
As expected, most viewers are fully behind a reconciliation between Spencer and Olivia. Not only did they enjoy seeing the latter win a date with the former at the auction, but some were moved to tears when she made it known to Spencer that she misses him. Take a look at what people have been saying on Twitter.
All American season 5 continues to air new episodes on Mondays on The CW.
Get the What to Watch Newsletter
The latest updates, reviews and unmissable series to watch and more!
Terrell Smith has a diverse writing background having penned material for a wide array of clients including the federal government and Bravo television personalities. When he's not writing as Terrell, he's writing under his pseudonym Tavion Scott, creating scripts for his audio drama podcasts. Terrell is a huge fan of great storytelling when it comes to television and film. Some of his favorite shows include The Crown, WandaVision, Abbot Elementary and Godfather of Harlem. And a fun fact is he's completely dialed into the TLC 90 Day Fiancé universe.