All American's Spencer finally discovers Jordan's secret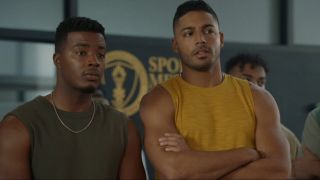 (Image credit: The CW)
Although All American season 5 has been widely focused on the post-breakup lives of Spencer (Daniel Ezra) and Olivia (Samantha Logan), the blossoming love story of Jordan (Michael Evans Behling) and Layla (Greta Onieogou) has also garnered its fair share of attention. The chemistry between the new couple is undeniably endearing, yet a bit dramatic, given the fact that they have been hiding their romance from everyone.
If you're counting, Jordan's romantic development is secret number two he's been keeping from Spencer. The young Baker has also been sitting on the secret that his dad Billy (Taye Diggs) is going to become the new head coach of GAU football. For a guy that usually tells Spencer everything, Jordan is keeping him in the dark about some major news.
However, we can understand Jordan's logic. As it pertains to Layla, she is Spencer's ex, so that could make things awkward. Then in terms of the GAU coaching development, Spencer and Billy have always had a close relationship and Spencer literally ended things with Olivia over the college football program, so Jordan keeping his dad's job under wraps greatly impacts Spencer. With all that said, in the episode that aired on January 31, one of these pieces of information came out due to Spencer's detective work. But which one?
It was none other than Jordan's secret romance.
Throughout the episode, Jordan was being a bit cagey with Spencer, which the latter definitely picked up on. For starters, in mid-conversation between the two, Jordan nonchalantly mentioned he decided not to transfer to another school. For him to casually say that considering how much of an impact the original news of him transferring had on Spencer was weird.
Later in the episode, Spencer caught Layla and Jordan in separate lies. Spencer first overheard Jordan on the phone with Billy, but when Spencer asked who was on the other end of the call, Jordan said Layla. When Spencer stumbled upon Layla later that evening at the Baker Beverly Hills home, she mentioned not having spoken to Jordan that day. Given she was cagey too, Spencer was able to put two and two together to see what was going on. Take a look at the interesting exchange between Spencer and Layla below.
In the end, Spencer decided to confront his best friend and teammate about this secret. Interestingly enough, the latter panics thinking Spencer is talking about his dad accepting the college coaching job. However, Spencer went on to say how happy he was for Jordan and Layla, to which the quarterback breathed a sigh of relief.
However, in the show's dramatic fashion, Spencer finds out about Billy's new job from A.D. Barnes (Morris Chestnut) which is not going to bode well for his relationships with Spencer or Billy. Given the trailer for the next episode, things are about to heat up.
All American fans weigh in on Spencer discovering Jordan's secret
It looks like All American fans enjoyed Spencer's figuring out Jordan's secret. However, they are certainly anticipating next week's episode. Here's what they are saying on Twitter.
All American season 5 continues to air on Mondays on The CW.
Get the What to Watch Newsletter
The latest updates, reviews and unmissable series to watch and more!
Terrell Smith has a diverse writing background having penned material for a wide array of clients including the federal government and Bravo television personalities. When he's not writing as Terrell, he's writing under his pseudonym Tavion Scott, creating scripts for his audio drama podcasts. Terrell is a huge fan of great storytelling when it comes to television and film. Some of his favorite shows include The Crown, WandaVision, Abbot Elementary and Godfather of Harlem. And a fun fact is he's completely dialed into the TLC 90 Day Fiancé universe.