Dolly Rose Campbell loved creating Corrie's Gemma from the inside out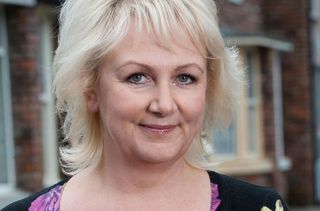 Having spent most of her career so far in radio, Coronation Street's Dolly Rose Campbell, 29, tells TV Times getting a costume – any costume – is exciting new territory.
How much say did you have in the development of your character, loud and proud Gemma Winter?
"When I first came in as Gemma [in 2014 as bad boy Callum Logan's sidekick] , all I was told was that she was an old friend of Kylie's, so I was allowed to bring my own interpretation to the role. To get the opportunity to not only create a character on the inside but create how she looks is really good fun."
So how did you go about bringing Gemma to life?
"I decided that she enjoys putting make-up on, and watches YouTube tutorials on how to get the latest looks – but gets them a little bit wrong. And she tries to be fashionable, but has to make do with what she can afford. It was my idea that Gemma would buy the smallest sized clothes she could physically wear, so she looks a bit chubby on screen.
"I had bleached blonde hair at my audition and wanted to get rid of it, but the casting director really liked it – and because Corrie kept bringing me back, I got stuck with it. Eventually, my hairdresser said: 'It's going to snap off if you put anything else on it!' So when I came back this time, the first thing I asked was whether I could have my normal hair. Fortunately, they said 'yes' and now I'm almost bleach free."
Gemma is currently dishing out doner kebabs at Dev's takeaway. You've personal experience of the catering trade, haven't you?
"I was working as a chef in an Italian restaurant just before I joined Corrie. Cooking was something that I fell into, and was my 'in-between' job."
What got you into acting in the first place?
"When I was at school, me and my best friend, Claire, were banned from seeing each other because I was accused of being a bad influence on her. We found out that a way we could still be together was if we went to a youth group at Bolton's Octagon Theatre. I'm from a working class family and we didn't go to the theatre. I was 15 at the time, and fell in love with it as an art form."
Do you want Gemma to become a fully-fledged resident and stick around for the foreseeable?
"I'm happy with whatever the writers want to write for me. But I'm loving life in Weatherfield. My favourite character is Eileen. I haven't had any scenes with her yet, but who knows…?"
Get the What to Watch Newsletter
The latest updates, reviews and unmissable series to watch and more!