A terrifying secret awaits in the 1970s thriller Doomwatch on Blu-ray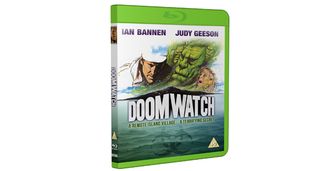 A spin-off from the 1970-72 TV series of the same name, this ecological adventure with a strong anti-pollution message is intriguing despite the lack of action and suspense, and is now out on Blu-ray and DVD from Screenbound Pictures.
Series regulars John Paul and Simon Oates take a back seat while Ian Bannen and Judy Geeson play a crusading scientist and a concerned teacher investigating the damaging effects that a chemical spill has on marine wildlife and the inhabitants of the tiny island of Balfe off the west coast of England.
In his penultimate film, a bored-looking George Sanders guests as an admiral. Future Bond star Geoffrey Keen and veteran actor George Sanders cameo and keen-eyed viewers can watch out for EastEnder's Pam St Clement as one of the villagers. READ MORE… (opens in new tab)
Doomwatch has been digitally restored for a Blu-ray and DVD region free release by Screenbound Pictures (opens in new tab), available from 20 June 2016
• Read all about the original Doomwatch TV series UK DVD release HERE (opens in new tab)
https://www.youtube.com/watch?v=Ojk1BfEGomY
Thank you for signing up to Whattowatch. You will receive a verification email shortly.
There was a problem. Please refresh the page and try again.