Downton star Phyllis Logan and Miranda Richardson cast in Kay Mellor's Girlfriends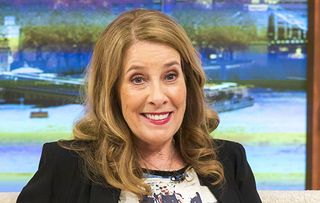 (Image credit: Rex Features (Shutterstock))
Kay Mellor's new drama is a story about friends, family and the inevitable changes that age brings stars Phyllis Logan, Zoë Wanamaker and Miranda Richardson
Filming for Kay Mellor's exciting new drama, Girlfriends, starts next month, with a starry cast that includes Phyllis Logan, Zoë Wanamaker and Miranda Richardson.
According to ITV, Girlfriends is a 'contemporary story of Linda, Sue and Gail as they struggle with the responsibilities that come with being a modern woman of a certain age'.
Phyllis Logan, who played Mrs Hughes in Downton Abbey, said: "I'm thrilled to be part of Girlfriends, written by the wonderful Kay Mellor and to be working not only with her but the stellar cast that has been assembled. It's a hugely exciting project and I feel enormously fortunate to be involved in it. I can't wait to get started."
Phyllis will play Linda who, following the sudden death of her husband Micky, finds herself adjusting to life as a widow and leaning on childhood friends Sue and Gail a little more.
But each woman has their own problems, from divorce, the loss of a high-powered job due to age discrimination to juggling the endless responsibilities of being grandparents and caring for their own ageing mothers.
Linda battles to come to terms with life on her own following 30 years of marriage. Luckily, her girlfriends are on hand to help when it becomes clear that life as a widow could be the least of Linda's worries. But how much help will they be?
The trio's friendship is challenged as questions begin to be asked over the circumstances of Micky's death. Accusations reveal secrets, deception and doubts that will put this long standing friendship to the test. Can the friendship ensure the strain?
Speaking about preparing for the role, Miranda Richardson said: "A whole summer spent working on a women-driven script, written and directed by a woman who has proved herself many times over as a force of nature in TV drama alongside some of our most gifted female actors - what's not to like?"
The drama has been a real 'passion project', says Kay Mellor, who has created The Syndicate, Fat Friends, xoxoxo.
She said: "I'm aware that there are a lot of women of a certain age who feel like they are invisible and unheard, so I'm proud to have the chance to shine a light on their lives and give them a voice. The series is not just a platform for their voices, though – there is a big, bold, dark story at its heart, which is shot through with humour. I'm hoping both men and women will love it as much as I've loved writing it."
Girlfriends will be directed by Kay and has been commissioned by head of drama for ITV Polly Hill. It will screen in 2018, but there is not yet a definite premiere date for the six-part series.
Get the latest updates, reviews and unmissable series to watch and more!
Thank you for signing up to Whattowatch. You will receive a verification email shortly.
There was a problem. Please refresh the page and try again.