EastEnders star John Partridge on why his role in La Cage aux Folles can be such a drag!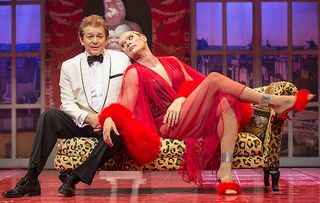 (Image credit: Pamela Raith)
EastEnders star John Partridge tells Soaplife about his lavish new musical role in La Cage aux Folles - and why body waxing's such a pain!
You're touring in the musical, La Cage aux Folles, John. Tell us all about it… "It's is one of the classic musicals. La Cage is a Parisian nightclub and I play a guy called Albin who transforms each night into a fabulous drag artiste called Zaza. I also turn into a third character when Albin imitates a woman called Sybil. She's the mother of Jean Michel who is the son of a character called Georges, who happens to be Albin's partner of 20 years. Keep up!"
We're doing our best! So what happens? "Albin and Georges have raised Jean Michel but he becomes engaged to a girl who has very strict, conservative parents. When these parents insist on meeting Jean Michel's parents, Albin comes to the rescue by transforming himself into the boy's AWOL mother."
Sounds very complicated! "I know. It is a fantastic role. I get to sing the classic anthem I Am What I Am and I have 12 costume changes in the first half alone."
Have you ever done drag before? "No – and I haven't done it in my own life, either. It's not for me. While I love it in the context of La Cage, I have no desire to wear lippy and heels in my own life! I am a very hairy man and the hour-and-50 minutes full body wax I had to endure in order to play Zaza and Sybil was excruciating. My back's also killing me because of the heels."
How long does the tour run? "Until mid August for now but more dates may well be added after that. Touring isn't for the faint-hearted and if I'm within 200 miles of home, I always try to get back. I spend a lot of time in the car. I'm not complaining, though."
Any chance of you turning up in Albert Square in the foreseeable? "I love popping back to EastEnders for a few weeks each year as Christian Clarke and, in fact, I've done so since I left. But I wouldn't want to return permanently. For me to develop, grow and improve, I need to work with different people and play different roles."
For more information on La Cage aux Folles visit: www.kenwright.com/microsite/la-cage-aux-folles
Get the latest updates, reviews and unmissable series to watch and more!
Thank you for signing up to Whattowatch. You will receive a verification email shortly.
There was a problem. Please refresh the page and try again.