'I recognise my children again' EastEnders legend June Brown has eyesight 'saved' in new treatment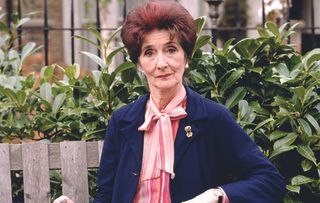 EastEnders legend June Brown has reportedly had her eyesight 'saved' in a pioneering new medical trial.
An operation to save EastEnders star June Brown's eyesight has reportedly been a success.
June, who turned 90 in February, was diagnosed with macular degeneration ten years ago. The condition, which affects millions of Brits, meant she struggled to read scripts and was unable to drive.
The star, who has played Dot Cotton since 1985, underwent surgery as part of a medical trial. The procedure, known as the EyeMax Mono treatment, was performed in just 60 seconds and readjusts nerve signals in the brain to improve sight.
Speaking to the Sunday Express, mother-of-five June said: ""I can see people's faces and recognise my children again.
"I can now distinguish colours and the pattern on a rug that I couldn't see before. I can read again and I don't think I would be able to see at all if I hadn't had the operation.
"It is slowly improving all the time. I think my brain is teaching my peripheral vision to come into operation."
June's eye surgeon Bobby Qureshi, who pioneered the new technology at the London Eye Hospital, said he was amazed by the success of the operation.
He said: "When I tested her eyes after the operation, I nearly fell off my chair. The improvement was astonishing."
"This is so exciting. Up to 20 million patients worldwide could benefit. It can give back life to people who could no longer do normal everyday things."
Trials have shown a dramatic improvement in the sight of patients with intermediate to advanced macular degeneration most of whom have no other treatment available.
Get the What to Watch Newsletter
The latest updates, reviews and unmissable series to watch and more!