EastEnders fans delighted as soap relives this ICONIC Kat Slater scene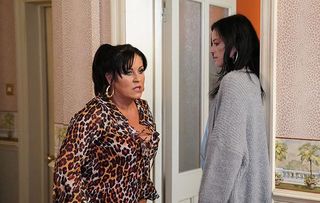 (Image credit: BBC / Kieron McCarron)
It's one of the most popular scenes in the soap's history!
On Thursday night's episode of EastEnders, fans were amazed as they relived one of the show's most iconic and memorable scenes, involving long-term character Kat Slater.
Viewers watched on, as Hayley Slater was left in turmoil over whether or not she wanted to keep her baby.
The youngster battled with whether or not she would be able to raise her daughter, before taking the little'un to hospital, where she planned to hand her over to her own, evil mother Bev.
However, it was then that the rest of the Slater family turned up, and desperately attempted to convince Hayley not to give her baby up.
Kat in particular stepped in, and pleaded with Hayley not to give the child away. And it was then that Hayley uttered a line from one of Kat Slater's most memorable scenes ever on the show.
She shouted, "You ain't my mother!" - reminding everyone of the moment when, over 10 years ago, Kat's daughter Zoe said the very same thing to her.
And fans were delighted with the little trip down memory lane with the line. One wrote on social media, "Did anyone else just get SERIOUS "YOU AIN'T MY MUTHA" throwbacks when Hayley said that to Kat.. ICONIC. #EastEnders @bbceastenders"
With another also commented, "You ain't my muvva" omg 😂 #EastEnders".
However it seemed that some viewers were left disappointed that Kat didn't say the iconic, 'Yes I am' line back to Hayley, as she did all those years ago with Zoe.
One wrote on Twitter, "@bbceastenders Was anyone else expecting Kat shout "yes I am " when Hayley said "you a'int my mother" 🙈😂 #EastEnders", while another also agreed saying, "When Hayley said "you ain't my mother" I really wish Kat replied "yes i am" #EastEnders"
And a third said, "Was anyone else waiting for KAT to say YES I AM 😂😂🙈🙈".
At the end of the episode, Kat was forced to watch as Bev and Hayley disappeared with the baby. Of course, fans are aware that Kat's emotional reaction to Hayley's child being taken away has a lot to do with the fact that her husband, Alfie Moon, is the father.
So where do they go from here? Only time will tell...
Get the latest updates, reviews and unmissable series to watch and more!
Thank you for signing up to Whattowatch. You will receive a verification email shortly.
There was a problem. Please refresh the page and try again.