EastEnders' Maddy Hill: The Great Sport Relief Bake Off is a 'hilarious train wreck'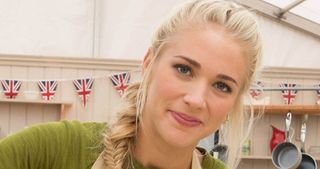 Personalities from the world of sport, comedy, entertainment and politics will be attempting signature, technical and showstopper bakes in what usually turns out to be hilarious.
So, get ready to see the flour fly as Bake Off tent has a fresh batch of celebrities bake for Sport Relief 2016 (BBC1, Weds, January 27)…
Those stars hoping to impress the judges over the next four weeks are War & Peace star Ade Edmondson, comedians Jason Manford and Morgana Robinson; actress Alison Steadman; ex-footballers David James and Jermaine Jenas; presenters Chris Kamara and Victoria Coren Mitchell; singers Will Young, Kimberley Walsh, Geri Horner and Louise Redknapp; and broadcaster and journalist John Simpson.
Jason Manford, David James, Samantha Cameron and Maddy Hill are first up next week, tasked with baking 24 canapes, an obscure French pastry called a Paris Brest and a showstopping 3D cake in the shape of a sporting trophy.
Here, Maddy, who plays EastEnders' fiery Nancy Carter, tells TV Times what it's like swapping Albert Square's caff for the big tent…
Hi Maddy, what did you think when you were asked to take part?
"I thought it would be such a hilarious calamity that I had to do it. And best of all it's for charity, helping raise money for people living tough lives in the UK and around the world."
How good a baker are you?
"I learnt everything I know from Danny Dyer who plays my screen dad, Mick. He's brilliant in the kitchen – not! Seriously, I have no culinary skills. All my EastEnders mates were like, 'What? You've agreed? You can't bake!' Everyone thought I was mad which was even more reason to do it."
Are you a big Bake Off fan?
"Huge. I unwind by watching cookery programmes and Bake Off's the ultimate comfort TV show. I was surprised and honoured to be asked."
What did you think of your opponents?
"Sam Cam? Mad! I thought it was just a rumour but turned up and there she was. Honestly, we all got on so well as a group. It was a brilliant balance of personalities. I thought Sam would be my biggest rival, but David James is a sportsman, so very determined. Jason just kept copying what the girls were doing!"
How did it feel walking into the tent?
"Magical. The tent's flooded with light so actually quite tranquil and calming. I was more nervous having cameras on me for two days. In EastEnders I pretend to be someone else, but in the tent it's the real you - you feel exposed. I think we all did. But everyone was so friendly I soon relaxed."
Was anyone super-competitive?
"No, if anyone was lagging behind we'd all pitch in. I think us being novices and thrown in at the deep end made it the hilarious train wreck it is."
How did you do in the challenges?
"My signature canapes actually came out okay – purely by accident! They rose in the oven – which I thought was wrong – and I tried to pat them down! I thought I'd be good at the technical as I can follow recipes, but let's just say I made the biggest cock up with salt…"
Who was scarier – Paul or Mary?
"Paul was stony-faced, but I was more nervous of Mary as she's such a legend."
Has it inspired you to bake more?
"Honestly? I haven't done it since! But I'm definitely more confident and hope seeing us have fun will inspire viewers to have a go and hold their own bake sales to raise money."
So what's tougher, life on Albert Square or baking for Mary and Paul?
"There's definitely more pressure in the tent!"
This week's contenders
Maddy Hill, 25
EastEnders' Nancy
Did you practise much beforehand? I made my showstopper 3D trophy cake three times – it came out completely wrong each time.
Worst judges comment? You don't want to hear the words, "That tastes really bad" from Paul. I heard it.
How much do you want to win Star Baker? Honestly, if just one of my bakes looks or tastes good I'll have done well.
Jason Manford, 34
Comedian/presenter
What was it like walking into the tent? Weird – it's the Wembley of bakers, the Royal Albert Hall for people who bake.
Toughest challenge for you? Making canapes – we didn't have them in our house. 'What's for tea, dad?' 'Canapes, son. With beans.' That never happened.
Proudest moment? Paul said I'd done a decent job of one bake. I said, 'Don't be so surprised! I've eaten a lot of baked products in my time.'
Samantha Cameron, 44
Businesswoman and wife to the Prime Minister
What was it like walking into the tent? Terrifying!
What would be your worst nightmare? Having to bake something I haven't heard of and not having a clue what it's meant to look like. It's the timings I'm worried about.
Who's scarier – Mary or Paul? Both are pretty scary!
David James, 45
Former England goalkeeper
Are you competitive? 100%. If I don't win then someone's cheated.
Trickiest challenge for you? The signature. My canapes were huge. I didn't think Mary had such a petite mouth. It looks bigger on my widescreen telly.
Who's scarier – Paul or Mary? I think they're both picky.
To find out how to hold your own bake sale and for other ways to get involved with Sport Relief 20216 visit www.sportrelief.com
Get the latest updates, reviews and unmissable series to watch and more!
Thank you for signing up to Whattowatch. You will receive a verification email shortly.
There was a problem. Please refresh the page and try again.