EastEnders' Ruby Allen tells cops she was raped after WISE Stacey Fowler intervention, reveals Louisa Lytton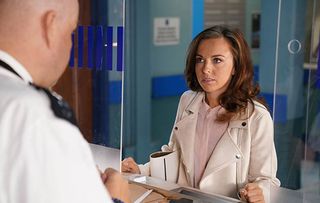 (Image credit: BBC)
Ruby and Stacey have a heart-to-heart
EastEnders star Louisa Lytton says Ruby Allen gets up the courage to go to the police after Stacey Fowler opens up about her own rape by Archie Mitchell.
Next week, Ruby is still traumatised after being raped by Martin's friend Matt, and her spirits take a further knock when nasty comments are posted about her online.
Martin's pals are the obvious suspects. Matt, Glenn and Ross – the latter of whom also had sex with Ruby on the night of the attack – believe that nothing untoward went on; that Ruby was "up for it" and is now back-tracking.
Stacey's livid, and urges her friend to report her ordeal to the police. Ruby decides to do just that, only for Martin to find out new information about what happened on the night in question. As he shares it with his wife, Stacey asks Ruby to recount what happened. Suddenly, Ruby starts to doubt herself, and does a U-turn.
She heads to the E20, and helps out Billy instead of going to the police.
It's a brave attempt to move on, but when Stacey arrives, she can tell that her friend is hurting. Opening up about her own rape by Archie Mitchell, she offers some wise words to Ruby, who then finds the courage to come forward.
Louisa Lytton, who plays Ruby, reveals, "Stacey has the experience to be able to say to her friend, 'This is wrong, and you will never forgive yourself unless you take the blame off yourself and tell the story for what it is'."
Soon after Ruby gives her statement, Stacey and Martin are questioned.
The fruit and veg peddler feels conflicted, especially when Ross later shows him a text message that Ruby sent him. Do Martin's loyalties lie with his former classmates?
And if so, how will that affect his and Stacey's marriage?
EastEnders continues on BBC1.
Get the latest updates, reviews and unmissable series to watch and more!
Thank you for signing up to Whattowatch. You will receive a verification email shortly.
There was a problem. Please refresh the page and try again.