I'm a Celebrity's Emily Atack: 'I'm very much in love at the moment'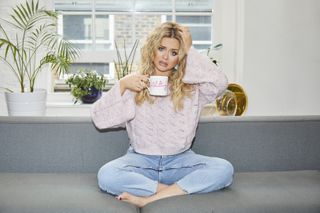 Actress Emily Atack grapples with her growing stardom and a quarter-life crisis in W's new access-all-areas documentary series, Adulting
Actress Emily Atack isn't short of a famous relative or two. Her mum, Kate Robbins, has starred in Crossroads and Spitting Image, her dad is musician Keith Atack from 1970s pop band Child, and her first cousin-twice-removed is the one and only Sir Paul McCartney!
But 29-year-old Emily has come a long way since her breakout role in E4 sitcom The Inbetweeners, carving out her very-own slice of fame after a stint in the jungle last year, when she finished runner-up to Harry Redknapp in I'm a Celebrity… Get Me Out of Here!
Next week, Emily is back on our screens in a funny and revealing four-part series, Adulting, which sees her tackling her growing stardom while also grappling with a quarter-life crisis.
With episodes called Should I Have kids? How Can I Find Love? Am I too Fat? and Am I Too Selfish?, Emily attempts to answer some big-life questions before she reaches her 30th birthday.
Here, Emily Atack talks about the issues keeping her awake at night, being in love and how the jungle has completely transformed her life…
TV Times: Hi, Emily! Why are you worrying about turning 30?
Emily Atack: "We live in an age now when everybody compares their lives on social media and thinks, 'I'm approaching 30 and I'm not engaged yet! I don't have the nice house and two dogs! I don't even know how to read the gas meter!' It's a sort of limbo age when you start to panic a bit, and I wanted to make a show about it to say to anyone else feeling the same way, 'You're not alone.'"
More: Tom Bateman on ITV's big new drama Beecham House
TVT: How did you decide on the themes for the episodes?
EA: "I am a happy person in general, but I've always struggled with these kinds of anxieties, like, am I too fat? Why haven't I got a boyfriend yet? But more recently, I've started worrying about having babies, maybe like a lot of women my age. I don't know why, but I feel like my life won't be complete until I have my own family."
TVT: You have found love since filming, though, with film producer Rob Jowers…
EA: "Yes, I'm very much in love at the moment. It's so funny because the crew were like, 'Oh, we knew this would happen!' But I think doing this show has helped because I came to the conclusion that I couldn't change the fact that I'm quite needy in relationships, but Rob loves that. Also, he wants kids now and I'm the one saying not yet!"
TVT: The series really is access-all-areas and you even let cameras film your fertility test!
EA: "There was a moment when I had my legs in the air and you could see my ovaries on screen and I thought, 'I've gone way too far now!' But I'm an open book, and after being in the jungle, you have a sense that people want to know all about your life. I'm fine with that."
TVT: How has your life change since leaving the jungle?
EA: "It's totally changed, and in the most incredible way. It's given me all sorts of opportunities – a clothing line, I'm writing a book, this TV show… It's unbelievable! The jungle taught me so much. It's not this horrible reality show that spits you out. If you embrace the experience and give yourself the right aftercare, it can be a wonderful thing. It was the best decision I've ever made."
TVT: Did your distant cousin Sir Paul McCartney vote for you?
EA: "I think he told my mum that he was watching it… or I might have dreamt that! I don't know. Let's say yes!"
TVT: Has filming Adulting made you think differently about life?
EA: "I thought it would make me change things, but it's actually made me more self-accepting. Maybe I'll always just be a bit clumsy, and a bit ditzy when it comes to anything domestic. I think growing up is more about learning who you are and being alright with it rather than trying to change yourself."
Emily Atack: Adulting airs on 26 June at 10pm on W
Get the What to Watch Newsletter
The latest updates, reviews and unmissable series to watch and more!
Senior Writer for TV Times, TV & Satellite Week, What's On TV and whattowatch.com
Rebecca has more than 20 years' experience in journalism and is now writing about all things telly-related for TV Times, TV&Satellite Week, What's On TV and whattowatch.com.
She's interviewed all sorts of big-name stars, including Al Pacino, Ewan McGregor, Tom Hardy, Winona Ryder, Benedict Cumberbatch and more. She's also been known to step in front of the camera, dressing up as a 1920s flapper to star in ITV's Mr Selfridge and co-hosting ITV News at Ten with Mark Austin – all in the line of duty!
When she's not quizzing actors, directors and producers, you'll find her bingeing US dramas and anything horror/sci-fi/zombie-themed. But her greatest love will always be Game of Thrones… just don't mention the ending!