Tom Bateman on why Beecham House isn't 'Downton in Delhi!'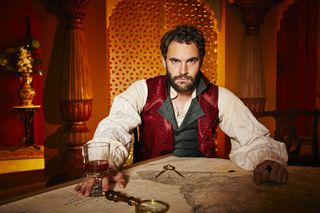 Tom Bateman spills the beans about ITV's action-packed India-set period drama Beecham House...
The vibrancy, romance and political tensions of late 18th century India are brought to life in ITV's sumptuous period drama Beecham House.
Set in 1795, the series, created by Bend it Like Beckham's Gurinder Chadha, centres on enigmatic John Beecham (Vanity Fair star Tom Bateman), a one-time soldier who wants to start a new life at his Delhi mansion Beecham House and become an independent trader. But he faces obstacles due to bitter local rivalries and his arrival with a mixed race baby, August, sparks gossip.
Here Tom Bateman reveals all to TV Times about his role in Beecham House…
TV Times: Tell us about John
Tom Bateman: "He's fascinating. In India then, there was tension from foreign nations taking over. It was like the Wild West, there were no rules. John wants fair trade instead of abuse of power, but he needs a trade licence and there's opposition. It's not an easy road."
More: First look! Strike star Holliday Grainger in her big new BBC1 thriller
TVT: His personal life causes ructions though doesn't it?
TB: "Yes there's darkness, secrets and lies but at heart he's a good man. He's drawn to Margaret Osborne [an English governess played by Dakota Blue Richards], because she's independent and forward-thinking. But John's secrets impact on their relationship because he has turned up with this baby and people wonder, 'Where is the mother?'"
TVT: The exteriors were shot in India, what was it like filming there?
TB: "Exciting! We even filmed at the Taj Mahal. One of the Indian actresses said that filming in India is like guerrilla warfare, you just turn up and shoot. Someone would say, 'It'd be good to get a shot from that cliff,' and two minutes later a dude would strap a camera to his back and be climbing up a mountain."
TVT: How did you deal with the heat?
TB: "We got treated well. As soon as we said we were hot we'd have ice packs strapped to our head and cold flannels. But for once, the men have it worse than women in terms of costume because they had dresses but I had boots, trousers and a big coat."
TVT: Are there lots of stunts?
TB: "Yes, John can take care of himself. Within two seconds, you'll think, 'This isn't Downton Abbey!' Although 'Downton in Delhi' is a great headline! There's a lot of pounding through the countryside on horseback and guns and swords being drawn. The crew said, 'We have a stuntman.' But I said, 'No I want to gallop over that hill!'"
Beecham House airs on Sunday 23 June and Monday 24 June at 9pm on ITV
Get the latest updates, reviews and unmissable series to watch and more!
Thank you for signing up to Whattowatch. You will receive a verification email shortly.
There was a problem. Please refresh the page and try again.