Vanity Fair star Tom Bateman: Everything you need to know about TV's new Mr Darcy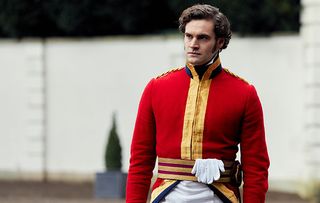 Move over, Colin Firth! We meet period drama's latest leading man, Tom Bateman
Currently playing Becky Sharp's long-suffering husband, Rawdon Crawley, in Vanity Fair, actor Tom Bateman was recently announced as the lead in new period piece Beecham House, touted by many people as ITV's replacement for Downton Abbey.
Yes, Oxford-born Tom, 29, is becoming the rising star of British costume drama. Charming and chatty as TV Times talks to him on the Vanity Fair set, classically trained Tom – who has 13 siblings including a twin brother, and is dating Star Wars' Daisy Ridley – says he is always looking to keep life interesting with a variety of different roles, but can't stop himself falling in love with the world of corsets and curtsies…
Here we talk to Vanity Fair star Tom Bateman...
How does it feel to play the role of the dashing hero?
Tom Bateman: "I've played leading men before but I'd never done a proper TV period drama, so stepping into Rawdon's boots has been quite fun. Vanity Fair is for my mum and dad – they love the costume drama stuff. I always say I like to mix things up – I'm doing a movie next with Liam Neeson where I'm a bad guy. That's one for my brothers because I get to shoot guns and kill people! I'm loving the world very much. We were very fortunate to film Vanity Fair in stunning manor houses, and luckily I'm very happy on a horse!"
What do you make of Rawdon?
TB: "When I got the part, my mum started reading the book. She got to the end and said, 'Oh, you're playing the silly one.' I don't think that's fair, really! He's blinded by love. I know he may look stupid to an audience who know Becky is taking him for a fool, but he's head over heels for her and he can't see it. He loves his son and wants to give up all the nonsense to just be a good dad and have a home. He's willing to sacrifice himself for that."
There's a turning point in their relationship this week…
TB: "It's heartbreaking because you realise Becky could have been very happy with Rawdon, but she can't let her ambitions go. They fell in love but the goalposts moved once they started to climb through society and she saw what else she could have. There is a point in this episode where Rawdon does become very wise. His belief in this love is his downfall."
Do you think Vanity Fair is still a relevant story to tell?
TB: "Yes, 100 per cent. It's about narcissism gone mad, this idea of prioritising the parties you're invited to, the clothes you wear, the people you hang out with, to the detriment of all else – Becky and Rawdon are a perfect example of some of these celebrities who actually have nothing but act as if they're the A-list. The series instantly stands up in the land of selfies and the Kardashians, because who are they? What purpose do they serve?
What's it like being part of such a starry cast?
TB: "It's very similar to when I worked on [Kenneth Branagh's 2017 film] Murder on the Orient Express – it's like a conveyor belt of people I've admired for years. My sister lit up when I told her Martin Clunes was playing my dad – she loves Doc Martin! He's a very funny man. There was a day we couldn't get through a single take without laughing – very unprofessional of us!"
Vanity Fair continues tonight on ITV at 9pm.
Get the What to Watch Newsletter
The latest updates, reviews and unmissable series to watch and more!