Emmerdale fans convinced Nicky has a sinister secret identity!
Emmerdale viewers think the new nanny is up to no good - but who is he?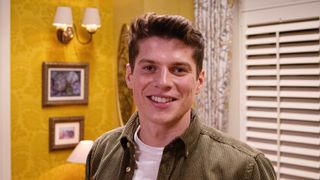 (Image credit: ITV)
Emmerdale fans are convinced new nanny Nicky has links to someone else in the show.
And they're absolutely sure he's up to no good!
But are they right about the newcomer's murky plans?
Last night, viewers saw Nicky reveal he'd found Will's precious watch and claim baby Thomas had been playing with it.
That was after days of tension and accusations. Will had been convinced Sam Dingle had stolen the watch, and had sacked him.
Lydia had stood by her man and walked out of her job at Home Farm, too, which upset Kim who had thought she and Lydia were friends.
And Will and Sam had come to blows outside The Woolpack.
With things falling apart chez Tate/Taylor, Nicky produced the watch and announced he'd found Thomas with it.
Riiiiight.
Sounds fishy, don't you think? The Emmerdale viewers definitely agree!
They're convinced Nicky is up to something.
Some viewers think Nicky just stole it to be 'nice' and give the money to Lydia.
But other viewers think Nicky's got a more sinister agenda!
And they reckon he's got links to a family in the village.
Some fans are convinced he's related to Caleb Milligan - the newest Dingle on the block - and helping him bring down Kim Tate.
They even have a theory that Nicky could be Caleb's son!
The idea definitely has legs. Caleb was there to break up the fight between Will and Sam, and then appeared at Home Farm just a few minutes after the watch had been found.
He's always in the right place at just the right time.
Meanwhile, other fans think Nicky is working for Jamie Tate! They reckon he's been employed by Kim's once-beloved son to cause trouble.
Again, it's plausible and could explain why Nicky won't get too close to Gabby.
And other fans believe Nicky could be a long-lost Tate, home to claim his inheritance.
This idea is given legs by the fact that in the Emmerdale credits, Nicky is known just as his first name - a common tactic when show bosses want to hide a character's real identity.
Could there be more to Nicky than meets the eye? We'll have to wait to find out.
Emmerdale usually airs Monday to Friday on ITV at 7.30pm with an hour-long episode on Thursday. Check our TV Guide for more information.
Get the What to Watch Newsletter
The latest updates, reviews and unmissable series to watch and more!
Kerry is a writer, author and editor with a lifelong love of the soaps, a passion for TV drama of all kinds, and an obsessive devotion to Strictly Come Dancing.
She was features editor of All About Soap magazine for more than a decade, covering every bit of excitement from all the UK soaps and the Aussies and still writes about all the juiciest gossip from the Street, the Square and the Dales whenever she can.
Kerry's also an author of historical fiction, and her two jobs collided when she got the chance to write two novels based on Emmerdale, and the Sugden, Tate and Dingle families, during WW2.