Emmerdale's John Middleton: 'The crew were in tears when we filmed Ashley's death'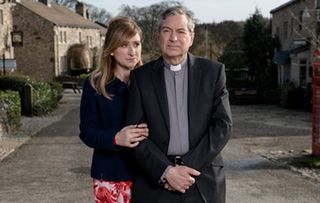 As Emmerdale's former Vicar, Ashley Thomas, reaches the end of the road, actor John Middleton talks about his character's moving dementia storyline and shares his thoughts on leaving the soap after 20 years...
It's the end of an era in Emmerdale next week. In an episode to be screened on Friday, April 7th, former village vicar, Ashley Thomas, will pass away at home, following a battle with dementia and a recent diagnosis of pneumonia.
We caught up with actor John Middleton to talk about his portrayal of Ashley's condition, and to find out what's in store for him as he waves goodbye to the popular ITV1 soap.
Ashley is about to bow out on screen – is this going to be a tearjerker for soap fans? "I think it's a tearjerker for everyone! When we filmed Ashley's death, the atmosphere on set was extraordinary. We were getting ready for a take, and what we call the 'checks' came on – where people check your costume and your make-up. One woman was leaning over me and her tears were dripping on to my cheek! The medical advisor was crying, too!"
How does it feel to be saying goodbye to the show when you've been in it for so long? 'It's weird, to tell you the truth. I've been in Emmerdale for over 20 years – that's half my career. I think I'll only appreciate how odd it is when I've properly gone, because after 20 years, you're sort of institutionalised. My mother said to me: 'You're going to experience something akin to grief.' I was like 'Yeah, right' but actually, I think she's right.'
Why do you think the dementia storyline has resonated so much with the public? "Well, it's a really good story. But the main reason is that most people have some experience of this disease. I've found it really quite astonishing, the number of people who've come up to me and said: 'Thank you for doing that; my Dad had this' or 'My Mum died a few years ago and she had this.' And it keeps happening. I'm a football fan and I go to the match up in Newcastle every other Saturday, and I regularly have people coming up me and talking about their own experiences."
How much of your performance has been based on your research of dementia, and how much has been instinctive? "I'm the sort of actor who likes to do research, but after a while, you've just got to think 'Right, that's in the background; now I've got to let my instinct deal with it.' Freddie Jones, who plays Sandy, said to me once: 'John, dear boy, you can do as much research as you like, but after a while, you have to let your imagination fly!' And it's very true; you just have to think 'This feels right.I don't know why it feels right, but this feels right.'
"There are some general things that I discovered, for example, it's very common for people with dementia to shuffle, because you have limited spatial awareness. It a bit like when you get out of bed to go to the loo and don't want to put the light on, and you shuffle because you don't want to bang your feet."
Has the storyline made you fear dementia? "I don't fear it as much as acknowledge that it's a possibility; I fear it like I might fear death. If I was given a diagnosis of a form of dementia, I wouldn't regard it as a death sentence. I know that you can live well with it, and that there are strategies you can adopt to help with it, and certain drugs that can help.
"But prior to all that happening, what I would fiercely like to campaign for is that more research goes into finding a cure for this disease, because it's a huge, huge problem. The Alzheimers Society told me that currently 850,000 people in this country alone are diagnosed with dementia and that figure is likely to rise to about two million by about 2050."
Will you continue to watch Emmerdale after your exit? "At the risk of offending Charlotte (co-star Charlotte Bellamy, who plays Laurel), probably not. I might dip in every now and again and go 'That's who Laurel's with now!' but you have to make a clean break. I don't believe in looking back; I've got to look forward, and actually it's very exciting looking forward at the moment because there's such a lot of amazing work being done on television for writers and actors."
How do you feel about not working with Charlotte any more? "It's a small tragedy. Well, a big tragedy! One of our colleagues, Sam Giles, who plays Bernice, said to me 'You'll have to do something life affirming after this.' And I thought, 'You know, you're right.' The nice thing is that Charlotte and I live around the corner from each other in Harrogate, and there are lots of life-affirming walks to be had. We both have dogs and we both like walking."
What's next for you? "I've had very good conversations with people very high up within ITV. I think it's more likely than anywhere that that's where the work is going to come, if it comes. I've had great conversation with someone called Jane Hudson, who's in charge of ongoing and continuity drama. But we'll just have to see."
It won't be too long before the British Soap Awards are upon us. Are you hoping Ashley's dementia storyline will be recognised? "It is amazing to have people share their stories, and you couldn't ask for an award as rich as that. Honestly, with any drama you want to make a connection. That's what drama's for; it's for holding out a hand to people and saying, 'You're not alone.' And if we can do that, then that's fantastic – at the risk of sounding pretentious, you've smuggled art into a popular show. What we want to do is celebrate and honour the people who've lived with this, and I hope we've achieved that."
Alison Slade has over 20 years of experience as a TV journalist and has spent the vast majority of that time as Soap Editor of TV Times magazine.
She is passionate about the ability of soaps to change the world by presenting important, issue-based stories about real people in a relatable way.
There are few soap actors that she hasn't interviewed over the years, and her expertise in the genre means she has been called upon as a judge numerous times for The British Soap Awards and the BAFTA TV Awards.
When she is not writing about soaps, watching soaps, or interviewing people who are in soaps, she loves going to the theatre, taking a long walk or pottering about at home, obsessing over Farrow and Ball paint.
Thank you for signing up to Whattowatch. You will receive a verification email shortly.
There was a problem. Please refresh the page and try again.