Emmerdale viewers fear for Robert after Lachlan discovers huge family bombshell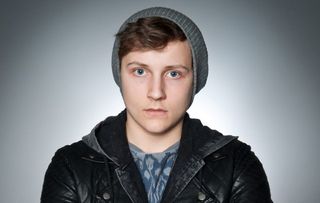 Will Lachlan go to drastic measures to get his hands on some money?
Emmerdale viewers were gripped as Lachlan White made a big discovery about his inheritance on Friday evening.
The troubled teen caused the deaths of mother Chrissie White and grandfather Lawrence White last month when he steered their speeding car into the path of an oncoming lorry.
However, after hoping to cash in on his family tragedy, Lachlan (Thomas Atkinson) and girlfriend Belle Dingle (Eden Taylor-Draper) were left gobsmacked when the lawyer informed them that Lawrence wasn't as rich as they expected.
He looked stunned when he was told he'd only been left £300,000 for himself and baby Seb in the will – and has to wait until he turns 21 to access it.
With aunt Rebecca still in a coma following the horrific car accident, it was then revealed that hers and Seb's inheritance would go to his legal guardian if she died - being Seb's dad, Robert Sugden (Ryan Hawley).
Angered by the news, Lachlan then muttered: 'So Robert wins again.'
And the teenagers bitter words have left fans terrified that he might take drastic measures to get his hands on the money.
'Lachlan can't wait to get his hands on the family loot #Emmerdale', one Twitter user said.
While another said: 'Next move? To prove a Robert is unfit to be a father so he can get his grubby hands on the money'.
And a third added: 'Lachlan is so awful his mother and grandfather are dead and all he cares about is money #Emmerdale'.
Meanwhile, Lachlan previously attempted to kill Rebecca while she was in a coma to make sure the truth about his crime didn't come out.
But things could be about to come unstuck for him as eagle-eyed viewers spotted Rebecca's eyes start fluttering as she begins to finally wake up.
Will Lachlan's aunt recall what really happened in the tragic car crash?
Emmerdale continues on ITV on Monday at 7.o0pm.
Get the latest updates, reviews and unmissable series to watch and more!
Thank you for signing up to Whattowatch. You will receive a verification email shortly.
There was a problem. Please refresh the page and try again.