'It's really hard' Emmerdale's Laura Norton on why Mark Jordan attack scene was so hard to film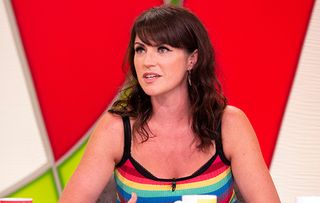 (Image credit: S Meddle/ITV/REX/Shutterstock)
Last night's dramatic episode saw Kerry Wyatt, played by Laura Norton, lash out at real-life husband Mark Jordan, who plays Daz Spencer.
And it sounds as if this particular Emmerdale storyline was a tough one to act out for Laura, who explained "it's really hard at that time in the morning" to show so much emotion.
Laura explained to the Loose Women panel: "It was 7 o'clock in the morning, first scene of the day, very emotional, very wordy, had lots of words.
"And I had to get really physical, and it's really hard at that time in the morning to just go – boom, I'm crying my eyes out.
"It was a bit weird. I took the stage directions literally, just for safety.
"We're up against a wall – he said 'practice on me' – and I couldn't stop laughing, so we didn't get to do it once without laughing."
Kerry physically lashes out at Daz after asking him where missing youngster Amelia Spencer, played by Daisy Campbell, is. The schoolgirl went missing after finding out that Daz was actually her biological father.
Daz denied any knowledge of Amelia's whereabouts, insisting that he loves his daughter and is also fearing for her safety. But Kerry doesn't believe him - and attacks Daz, accusing him of lying.
Kerry's life has taken a dramatic turn after becoming embroiled in such a dark storyline, and Laura has also spoken about how this means we get to know her better as a character.
"Now we can explore a different side, so it become a fully dimensional character," she said.
"It's not by any means over yet," Laura warned. "Daz is a suspect, but there's another couple of twists and turns.
"We do find her. Does she want to come home? Does she not? Does it have anything to do with him? What happens to the family once she is [back]?"
Despite her conviction when it comes to accusing Daz, Kerry's suspicions that he has Amelia stashed away somewhere are unfounded. The real culprit is actually the daughter of a man Daz killed during his army service.
When will Kerry discover the truth? Stay tuned...
Get the latest updates, reviews and unmissable series to watch and more!
Thank you for signing up to Whattowatch. You will receive a verification email shortly.
There was a problem. Please refresh the page and try again.