Emmerdale star Alexander Lincoln on James Tate's SHOCK secret family!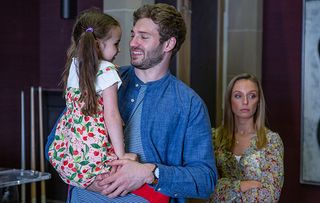 James is married with a kid!
When a new resident arrives in soapland, they've usually got more baggage than just a suitcase. So it is with Jamie Tate in Emmerdale.
Ever since he arrived in the village, we've been wondering who Kim's impossibly nice son can cop off with, but it turns out that he's married with a kid! This week Jamie's secret comes out after mum Kim clashes with a mystery newcomer in the village – yep, that's the wife. Kim's riding her horse down the lane when the woman drives past at full pelt, causing the stallion to bolt and Kim to kick off.
Jamie's nearby with Rhona, and, as he sees the drama unfold, he sheepishly tells Kim that the woman, Andrea, is his missus, and the little girl in the car is their five-year-old daughter, Millie.
"Jamie met Andrea at university," explains Alexander Lincoln, who plays Kim's son. "She's less innocent than him and a bit more hard. She knows that he's been living in the village for work, but she thinks he's been staying at the B&B.
"The two of them have a good relationship but they haven't seen each other for a while, and because Jamie has wanted to keep things private, he hasn't spoken to her very much lately. So it seems to her that he has been ignoring her calls, and things have become a bit strained."
More: Lee MacDonald on his new EastEnders role and his days in Grange Hill
Kim is stunned to meet her daughter-in-law, and soon thinks that Andrea isn't worthy of being her precious boy's wife.
"And she doesn't like being a grandma at all!" laughs Alexander.
Meanwhile, Andrea is shocked to realise that Jamie has been living with his manipulative mum at Home Farm.
"Jamie has been fairly open with Andrea about what Kim has done," adds Alexander, "so Andrea is annoyed that Kim has been able to wheedle her way back into his life."
Poor Jamie is caught in the middle of the two women, but he hopes bridges can be built when his wife agrees to stay the night. And, the following day, he sets about finding Andrea a job, believing Emmerdale would be an idyllic place for them to raise their daughter. Has no one told him that in the past few months alone, Ellis was stabbed, Victoria was raped and Jacob was groomed?
But his good intentions are surely going to end in tears. Andrea hates Kim, and Kim hates Andrea, and Jamie can surely only side with one of them. Who will he end up choosing?
Emmerdale continues on ITV.
Get the What to Watch Newsletter
The latest updates, reviews and unmissable series to watch and more!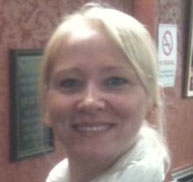 Alison Slade has over 20 years of experience as a TV journalist and has spent the vast majority of that time as Soap Editor of TV Times magazine.
She is passionate about the ability of soaps to change the world by presenting important, issue-based stories about real people in a relatable way.
There are few soap actors that she hasn't interviewed over the years, and her expertise in the genre means she has been called upon as a judge numerous times for The British Soap Awards and the BAFTA TV Awards.
When she is not writing about soaps, watching soaps, or interviewing people who are in soaps, she loves going to the theatre, taking a long walk or pottering about at home, obsessing over Farrow and Ball paint.