Emmerdale star Emily Head on her Rebecca White ordeal: 'I've never been chained up in a shack before!'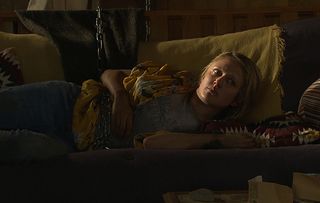 Lachlan White is keeping Rebecca White locked up in a shed in the woods and she is now fighting for survival says Emmerdale star Emily Head…
As if Rebecca White (Emily Head) hasn't been through enough, she now finds herself shackled in a shed and on evil Lachlan White's hit list. After accidentally knocking over her water, she fears that she won't make it out of her prison alive…
What's the story?
"This is the toughest thing Rebecca has ever been through,' actress Emily Head tells Soaplife. "But she has baby Seb to think of and that motivates her to try and escape." Can Rebecca foil Lachlan or will she join the body count?
What's happening in Emmerdale? See the latest soap storylines
Emmerdale star Emily Head chats with Soaplife about Rebecca White's kidnap ordeal…
Soaplife: How is Rebecca doing?
Emily Head: "Well, if you put anybody in isolation, they become weaker. Underneath though, Rebecca's still very strong and is fighting to escape by beating away at a rock she found on the fireplace. But while she has strength and resilience, there are periods where she feels like giving up. However, when she thinks about Seb, she gets a new surge of adrenaline. She is in a state and when she knocks over her water, she is soon dehydrated."
S: What did you think when you heard Rebecca was going to be kidnapped?
EH: "I was excited – I've never been chained up in a shack before, or acted it!"
S: Do you worry it might mean you get the chop from the soap if she doesn't survive?
EH: "I think as long as we are telling good stories, it doesn't matter when or how you go."
S: Would you like to see Rebecca escape?
EH: "I would like her to be happy. In an ideal world, she would escape and be with Seb for ever. She'd watch him grow up into a man who is nothing like his cousin."
S: Before she was kidnapped, there was chemistry between Rebecca and Ross Barton – do you think they are a good match?
EH: "Yes, that has been fun. It has been such a slow build, which you rarely get to experience at Emmerdale. Mike Parr (Ross) is a lot of fun and I like the friendship that has developed between Ross and Rebecca. They've both been through a lot. They've lost family members and it would be lovely if they could make each other happy."
S: How is Rebecca's memory while she is in the shack?
EH: "There are days when she wakes up and struggles to remember why she is there. Sometimes, something she has forgotten at the start of the week, comes back to her later on. If she did escape, I am not sure how much of it she would remember as Lachlan hit her over the head, which wasn't helpful."
S: Did you have to lose weight for the shack scenes?
EH: "They didn't give me a lot of time and anyway, I couldn't lose weight for continuity reasons, so I ate normally and had a lot of shadowing put in by the make-up department."
S: Is Rebecca frightened that Lachlan will kill her?
EH: "Yes. She now knows he killed half her family and Gerry. She thinks that by talking to him and saying things like 'You'll always be family' convinces him to keep her alive. Her ultimate plan is survival. She's told Lachlan that she won't tell anybody what he's done, she just wants to be with her son."
S: Could she ever forgive Lachlan for putting her through this ordeal?
EH: "I don't think so. There is still part of her that sees a scared young man, but he has turned into something she doesn't recognise. She needs some kind of payback."
Thank you for signing up to Whattowatch. You will receive a verification email shortly.
There was a problem. Please refresh the page and try again.