Emmerdale's Chas Dingle and Paddy Kirk actors on baby Grace's birth and death: 'The tears were all real'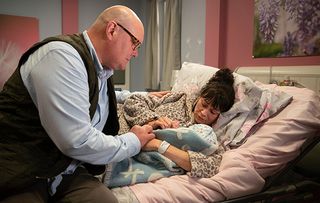 The tot passes away in moving scenes to be screened next week…
Expect heart-wrenching scenes in next Monday's Emmerdale when Chas Dingle gives birth to her and Paddy Kirk's baby daughter, Grace. The tot has a condition called bilateral renal agenesis, which means her kidneys haven't developed. Her parents have always known that she will not survive for long outside of the womb, but took the decision to continue with the pregnancy.
"Chas said very early on: 'If that child lives for three seconds or half an hour, that's her life and we owe her that,'" says Dominic Brunt, who plays Paddy. "So this episode is about them giving her love for the time that she's alive. That's all they can do."
Here, Dominic and Emmerdale co-star Lucy Pargeter, aka Chas Dingle, talk about the moving storyline…
How do Chas and Paddy feel when they set eyes on Grace for the first time?
Lucy: "There's that initial rush, and the love and the bond, but then the time starts ticking as to how long they've got with this beautiful thing they've created." Dominic: "Paddy melts, because she's really beautiful. But then things start going slightly wrong. Grace is perfect, and Chas and Paddy want everything to be perfect for her, but they're like 'I've forgotten this, I've forgotten that, Oh no, I think she's fading, is she in pain?' So then they just go 'No, let's do this for her', and the second half of the episode takes a really interesting turn. They turn it all into a positive, which is what they always wanted to do."
Paddy imagines a trip away with Grace and Chas. Dominic, can you tell us about this?
"I don't want to spoil it! If people tune in to see this harrowing episode where the actors are going to be howling at the moon, I'm really looking forward to that little right turn that they're not expecting..."
Lucy, you previously said that you were dreading filming this episode. Was it as hard as you imagined? And if so, what was the most difficult scene?
"The anticipation of doing the scenes was far worse than actually doing them. Me and Dom knew the enormity of it, but it was a lot smoother than we anticipated. I won't say 'easier' because it was harrowing and hard, and emotionally exhausting.
"For me, the hardest scene was when Grace is taken away. I think because I'd been concentrating so much on the birth and death, I hadn't really looked to the scenes where they give her over to the organ donation people. We had to go and sit in the side room for about ten minutes and calm down."
Was it the same for you, Dom?
"Yes, when it happened, it knocked us sideways. The baby was there for two really intense days, and then it was taken away from us. It was almost too much to take; it was really upsetting. Also, when Grace passes away, I had to sing a song. I did my notes about how I'd do it, but when it came to it, it just went out of the window because it was pure emotion. I could see how upset Lucy was, and that made me go."
So all the tears were real?
Lucy: "Jesus, yes! Sometimes you can use use a tear stick to bring on the wetness in your eyes, but for these scenes, there wasn't any need for that." Dom: "It was upsetting right from the beginning of the story. I remember sitting in the green room once, reading a script and someone said 'What are you reading Dom?' and I welled up and said 'I'll speak to you in a minute.' The dialogue was electric, and it's completely different to anything else I've been involved in."
You're both parents in real life. Did that make it easier, because you have a reference point, or more harrowing for that very reason?
Dom: "More harrowing, without a doubt." Lucy: "Yes, more harrowing. I've never been much of a method actor; I've never wanted to put myself in dark places because it's too awful to think of anything bad happening to one of your own. But for this storyline, there was quite a bit of me and Dom putting ourselves in that position."
Emmerdale has a history of presenting storylines that involve death in a very uplifting way. Will it be the same for this?
Lucy: "I think it has to be. If we'd just done half an hour of giving birth and the horrendousness of that and then the death of the child, there'd be no light in it, and there has always been light and shade in Emmerdale. So hopefully there'll be tears, but people won't feel completely exhausted."
People grieve in different ways. Will we see this with Chas and Paddy?
Lucy: "We're only just starting to film the grieving process, but hopefully Emmerdale, as brilliant as they are, are not necessarily going to do the typical male / female roles when it comes to grieving." Dom: "I'd really like them to explore the grieving process properly, which would be amazing, because I don't think any two grieving processes are the same."
Has this storyline brought you closer together?
Dom: "We've always been friends; Lucy has been round to my house to visit my family, and I've been round to hers, so we know everything about each other and already had that trust as actors. You feel silly sometimes, breaking down in front of someone, and thankfully we're close enough to be able to handle each other's presence." Lucy: "I've had it once in the past where I've felt really uncomfortable being quite raw on set with somebody; not feeling like I can completely let go because I didn't know them well enough. Now that me and Dom have been through this experience, there's not an awful lot more that we could share, emotionally. If we weren't already extremely close before, then we definitely are now."
Emmerdale, featuring Chas Dingle and Paddy, continues on ITV.
Get the latest updates, reviews and unmissable series to watch and more!
Thank you for signing up to Whattowatch. You will receive a verification email shortly.
There was a problem. Please refresh the page and try again.