Everything you need to know about new ITV show Planet Child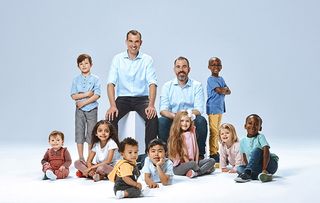 Doctors Chris and Xand van Tulleken reveal why they're leaving young children alone in a busy city…
How much independence should a child under seven have? And is giving them freedom a vital part of their development? These questions are explored by twin doctors Chris and Xand van Tulleken in the first episode of their new three-part ITV series, Planet Child.
Inspired by the freedom given to children in other countries, the pair come up with a test to see if a group of British kids, aged seven and under, can cross London without their parents on public transport.
Although the three small groups – each made up of siblings and cousins – are monitored by undercover chaperones and hidden cameras, they don't know that. Believing they are on their own, the children must find their way out of a London park, navigate a busy road, catch the right bus to the London Eye and then get off at the correct stop – a three-mile journey.
"We're testing a lot of things," explains Xand. "The kids' ability to stay on task, to navigate, to remember stuff, to follow instructions, to work together and to manage their emotions all in a totally alien environment."
It may seem a big deal to their anxious parents but, as the programme shows, in other cultures, children are given much more freedom.
In Japan, Michi, six, commutes across Tokyo to school every day on his own, while in Namibia, seven-year-old Uuakhuike goes out into the bush each morning armed with a machete, with his five-year-old brother in tow, to collect firewood.
So how will five-year-old cousins Kieran and Rita from Yorkshire, seven-year-old twins Judah and Darcee from Sussex, and Leo, seven, and his sisters Abi, five, and Harleigh, four, from Kent, get on with their freedom test?
Chris and Xand tell us more about Planet Child…
Why did you make Planet Child?
Xand: "We're both parents ourselves. We film a lot of stuff with kids and we make a children's show called Operation Ouch! on CBBC. And the thing that we've noticed is that there are lots of different ways of raising children around the world. So that provokes the question of what the benefits and risks might be of doing things differently here."
Were there any surprises for you making the programme?
Chris: "The children were consistently better in every way than any of us expected. They could navigate better. They stayed on task. They made interesting observations. They were more confident and more independent."
Were you worried about any of the children beforehand?
Xand: "Kieran and Rita had never been to a city before, although they have been allowed to roam around their farm, but they were the most relaxed. Along life's path you've got to stop and smell the flowers, and they really did that. Watching them, both Chris and I had a sense that we don't do that enough."
What do you think the children gained from taking part?
Xand: "There was a moment where Darcee said, 'I feel bigger than I am.' It was genuinely a very moving moment. The children had gone through a real transformation about how they thought of themselves."
How did their parents feel about them going off on their own?
Xand: "The parents were sitting there sweating and nervous. They were kept informed about what was going on, but all the parents had a harder time than the kids."
Has making this programme made you think about parenting your children differently?
Chris: "My daughter, Lyra, is almost two and I'm careful to stand back while she falls off things – nothing dangerous – so she'll get a bump and learn how to not fall."
Xand: "My son is 10, so he's less likely to fall off things, but I am trying to encourage him to go on journeys on his own and be a bit more independent."
What can parents watching the programme take from it?
Xand: "In Japan, there's total social acceptance of putting your young child on the Tokyo underground on their own. In the UK, it's the opposite and the London Underground won't allow it anyway. We're not proposing that everyone starts to do that, but your child could probably walk further to school than you imagine and maybe cycle by themselves when they're a bit older, which would give them a bit more freedom. But it's very hard to do, we know!"
Planet Child is on ITV tonight at 9pm.
Get the What to Watch Newsletter
The latest updates, reviews and unmissable series to watch and more!