Ex Corrie star Amy James-Kelly: 'I'm dreading the episode of Jericho where I sing!'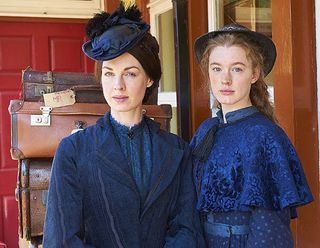 Former Coronation Street star Amy James-Kelly tells Soaplife the lesson she's learned from her role in ITV's new period drama Jericho (Thursdays)…
Tell us about your Jericho character, Martha…
"She's the 17-year-old daughter of a recently-widowed woman called Annie Quaintain. Left penniless by her schoolmaster husband, and shunned by their neighbours, Annie and her children – Martha and her 13-year-old brother George [Samuel Bottomley] – are forced to try to build a new life for themselves in Jericho. It's a shanty town populated by people building a massive railway viaduct in the Yorkshire Dales in the 1870s. Martha hates it at first. Not in a snobby way, but because it comes as an enormous shock to her. It's all so raw and rowdy, and she's never experienced anything like it before. At the audition, the key word in the character description was 'demure'."
Does 'demure' come easily to you?
"I don't know. I can either be really out there and just completely insane, and people go, 'All right, calm down'. Or I can be really shy. There's no middle ground with me. The one thing about playing Martha is that it's taught me it's OK to be shy. I used to see shyness as a weakness. I'd never want anyone to see that side of me. I'd deliberately try to be overly confident to compensate. But I think playing Martha has taught me that being shy and reserved is OK. It's helped me as well for that reason."
What's it like working with Call the Midwife's Jessica Raine, who plays your on-screen mum?
"It's been really amazing working with her. It's weird that we'd never met before Jericho and yet some of our mannerisms are really similar – like in the way we'll tell a story and our facial expressions. So it's been eerie, but good. Jessica's ace. I love her!"
Amy as Martha, with Jessica Raine as her mother, Annie
Martha sings folk songs in one episode… How was that for you?
"Really nerve-racking because I've never sung professionally before. I've done musicals at school and college, but that's as far as I got. I was practising 24/7. I had the songs on in my car, on repeat on my phone, listening again and again. All that helped me get into the swing of it because by the time we came to film, I was used to it and happy that I was doing it. I think I'd like to have a go at musicals now."
Can you watch yourself on-screen?
"I used to hate it, but I'm really excited about seeing how Jericho has turned out. I'm just not quite looking forward to seeing myself in it and I'm dreading the episode where I sing!"
Have you been in touch with any of your Corrie co-stars since you left the show?
"We haven't met up yet, but we talk and text and tweet. They think my hair and costume in Jericho is cool. I have these big hair extensions, you see…"
Amy as Maddie in Coronation Street, with Brooke Vincent, who played her girlfriend, Sophie
What's next for you after Jericho?
"I only realised the other day that I've never stopped working, because Corrie overlapped with my A-levels and then I started this. So it might be nice to have a little break. Saying that, I'd hate it if I was just sitting at home doing nothing. Something else will come along, hopefully."
Jericho, ITV.
Get the latest updates, reviews and unmissable series to watch and more!
Thank you for signing up to Whattowatch. You will receive a verification email shortly.
There was a problem. Please refresh the page and try again.