EXCLUSIVE Poldark's Caroline Blakiston: "I'll miss Aunt Agatha!"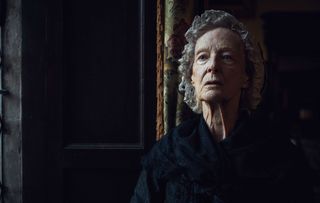 We spoke to Caroline Blakiston about Aunt Agatha's dramatic exit from Poldark. WARNING: CONTAINS SPOILERS!
SPOILER ALERT! Don't read on if you haven't watched tonight's seventh episode of BBC1's Cornish costume saga Poldark...
It's a sad day in 18th Century Cornwall as the fabulously fierce and wonderfully witty Aunt Agatha, a firm staple at Trenwith since series one, has breathed her last. Sob.
Whatsontv.co.uk exclusively caught up with actress Caroline Blakiston to talk about her exit from the hit BBC series…
Caroline, just what are we going to do without Aunt Agatha's astute one-liners?
"She had some good laugh lines, didn't she? And they offended everybody in the show, especially that George Warleggan! Jack Farthing, who plays him, is a wonder. He's such a good actor; he's subtle. People often ask me what he's like, and I always say: 'He's the nicest person you'll ever meet in the whole of your life.' Which, of course, people don't want to hear!"
Was it hard keeping it a secret that this would be Aunt Agatha's last episode?
"People who have read the books by Winston Graham often say to me that they know Aunt Agatha dies at some point. But I wasn't allowed to say, and I'm very mean about it! You can tell me one of your biggest secrets and I won't tell a soul."
You must have been sad to say goodbye to a great character like Aunt Agatha…
"I cried. After I filmed my last scenes, someone on the show asked me how I felt, and I suddenly just welled up, saying: "I'm going to miss her so much". I do love her. She told the truth. She'd seen terrible things but she was tough and never going to give up."
While Aunt Agatha is known for being hard-as-nails, in tonight's episode she did break our hearts when George cruelly told her she couldn't have a party as it wasn't really her 100th birthday.
"I'm so glad it had that effect. That is the only time she agreed to be frail and vulnerable. He's terrible, George! But what has happened to Elizabeth this series? I wonder if she has been watching Aunt Agatha and learning how to be a witch?! Ha!"
Ross Poldark (played by Aidan Turner) loved Aunt Agatha dearly. It was such a moving scene tonight when he said he wanted to be the one to dig her a grave.
"I'll tell you a secret. I hadn't read the script any further, and I was planning to secretly catch a train to Cornwall, and while they were all filming her funeral scene, I thought I'd jump out from behind a stone in the graveyard. But then I discovered she doesn't have a funeral so there was no point!"
Did you take any souvenirs from set?
"They gave me Aunt Agatha's tarot cards, wasn't that adorable? They also gave me a bouquet of flowers, which was very nice."
Will you keep in touch with anyone from the show?
"I hope I will. Jack and I are buddies, we talk lots. I think he's going to visit me here by the sea where I live."
Finally, what are your favourite memories of working on Poldark?
"I had very little to do on the show to start off with, but then I think they thought she was quite a valuable character to have and play people off her. So getting to know her and having more and more material was very nice. I also loved the scene where Aunt Agatha was talking about what she wanted for her birthday, and one of my all-time favourite lines is: "It's a Black Moon, no good will come of it!"
Get the latest updates, reviews and unmissable series to watch and more!
Thank you for signing up to Whattowatch. You will receive a verification email shortly.
There was a problem. Please refresh the page and try again.