Exclusive: don't underestimate Rowan in Mayfair Witches episode 3 clip
Watch this exclusive clip from Mayfair Witches episode 3, "Second Line."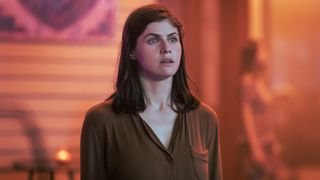 (Image credit: Alfonso Bresciani/AMC)
Rowan's quest to find answers about her family history and her mysterious — but deadly — powers takes a startling turn in Mayfair Witches episode 3, and What to Watch has an exclusive clip.
In episode 2, Rowan (Alexandra Daddario) arrived in New Orleans to investigate her adopted mother's connection to her birth mother. Meanwhile, Rowan's birth mother, Deirdre (Annabeth Gish) was on her way to finally meet her daughter after all these years of being kept from her.
However, their reunion was tragically short lived. As the elevator doors parted at the end of the episode, Rowan came face to face with Deirdre only to discover that her throat had been cut. She bled out in Rowan's arms while Rowan called for help.
Now, in Mayfair Witches episode 3, "Second Line," Rowan is demanding answers and Ciprien (Tongayi Chirisa) might be the only one who can help her. The problem is that Ciprien has secrets of his own.
Here's the episode synopsis from AMC:
"In the aftermath of Deirdre's grisly death, Rowan searches for safety in a strange city; Sip provides Rowan with a safe house while he investigates Deirdre's murder; Lasher makes contact with Rowan, but not in the way one might expect."
Take a look at the exclusive clip from the episode below:
Ciprien says he knows things about her and her family, but can Rowan trust him? And, more importantly, can he really help her find answers? Though he claims to have special abilities, Rowan insists that Ciprien has no idea who she is and she makes that crystal clear to him. She isn't sure she can trust him, but right now he's all she's got.
The Mayfair Witches cast also includes Jack Huston as the powerful entity known as Lasher, Harry Hamlin as Cortland Mayfair and Beth Grant as Carlotta Mayfair.
Based on Anne Rice's bestselling Lives of the Mayfair Witches trilogy, Mayfair Witches is the second series in AMC's blossoming Anne Rice Immortal Universe. Interview with the Vampire, which debuted in October 2022, was the first series and it helped lay the foundation for a new franchise that's set to explore the world Rice created and her beloved characters that live in it.
Mayfair Witches airs on Sundays at 9 pm ET/PT on AMC and AMC Plus.
Get the latest updates, reviews and unmissable series to watch and more!
Editorial Content Producer
Sarabeth joined the Watch to Watch team in May 2022. An avid TV and movie fan, her perennial favorites are The Walking Dead, American Horror Story, true crime documentaries on Netflix and anything from Passionflix. You've Got Mail, Ocean's Eleven and Signs are movies that she can watch all day long.
When she's not working, Sarabeth hosts a podcast dedicated to books and interviews with authors and actors. She's also very close to realizing her lifelong dream of publishing a novel.
Thank you for signing up to Whattowatch. You will receive a verification email shortly.
There was a problem. Please refresh the page and try again.