Meet the Mayfair Witches cast: who's who in the Anne Rice series
Mayfair Witches follows a long line of witches in New Orleans.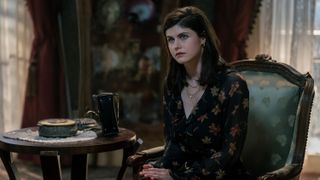 (Image credit: Alfonso Bresciani/AMC)
It's time for the witches to come out to play in Anne Rice's Mayfair Witches, the new AMC original series set in the Anne Rice Immortal Universe. This scintillatingly dark and evocative story weaves its way through several generations of the Mayfairs, a family of witches who have been blessed — or cursed — by the presence of a mysterious creature named Lasher. Rowan Mayfair represents the thirteenth generation of witches and she's looking for answers about her past and the startling powers that have started to manifest.
Alexandra Daddario (The White Lotus) headlines the new series from AMC that follows in the footsteps of Interview with the Vampire. For now the vampires and witches inhabit their own circles, but a crossover is quite possible in the future; Mayfair Witches sets the stage for a story that's been building for hundreds of years and leads up to the moment when Rowan learns who she really is.
Let's meet the cast of Mayfair Witches.
Alexandra Daddario as Dr. Rowan Fielding
Dr. Rowan Fielding is a brilliant neurosurgeon who has a knack for tough cases. She starts to notice that her uncanny ability to perform surgery might be tied to a horrifying ability to hurt people that has been manifesting. She has questions about her family history but the only way to get the truth is to head to New Orleans.
Alexandra Daddario got her start in 2002 as Laurie Lewis on All My Children. From there she starred in guest roles in several TV shows, but it was her role as Annabeth in the Percy Jackson movies and as Summer Quinn in Baywatch that helped her break out. Most recently she starred as Rachel Patton in the HBO series The White Lotus, for which she earned a Primetime Emmy nomination for Outstanding Supporting Actress in a Limited or Anthology Series or Movie.
Tongayi Chirisa as Ciprien Grieve
Ciprien is a new character created for the series. He's a combination of Aaron Lightner and Michael Curry from Rice's novels. Ciprien is a member of the Talamasca, an organization of benevolent paranormal investigators. Ciprien has been tasked with watching over the Mayfairs, specifically Rowan.
Chirisa played Justin Bell in 13 episodes of iZombie and was Father Nicholas in The Jim Gaffigan Show. He also appeared in the 2022 movie The Anthrax Attacks.
Harry Hamlin as Cortland Mayfair
Cortland Mayfair has gone through a bit of a revision from page to screen. The book version was an unsavory character who didn't last long, but in the series he's a Southern gentleman and bon vivant, something of the black sheep of the Mayfair family. Forever at odds with Carlotta Mayfair, Cortland is all too aware of Lasher's presence in the family and doesn't have a problem with it. He's the life of the party and is at his best with daughter Jojo (Jen Richards, Her Story) at his side.
Harry Hamiln has enjoyed a long career in Hollywood, though these days he might be best recognized as the guy watering plants in wife Lisa Rinna's dancing videos on social media. Hamlin rose to fame with his role as Perseus in 1981's Clash of the Titans and gained mainstream notoriety as Michael Kuzak in L.A. Law. He's appeared as a guest star in a number of TV shows and every now and then fans get a glimpse of him in Real Housewives of Beverly Hills.
Jack Huston as Lasher
Lasher is a mysterious being who has been tied to the Mayfair family for generations. He possesses great power and is capable of altering his appearance. Each generation he's linked to a member of the Mayfair family and Rowan represents the magical thirteenth generation that he's been waiting for.
Jack Huston is the nephew to famed actors Anjelica Huston and Danny Huston. He's known for a number of roles over the years, most notably on the big screen as Ben-Hur in the 2016 epic of the same name, Pete Musane in American Hustle and Jack Kerouac in 2013's Kill Your Darlings, as well as having a role in 2021's House of Gucci. On TV he appeared in eight episodes of Fargo and had a long-running role on Boardwalk Empire.
Beth Grant as Carlotta
Carlotta Mayfair is Deirdre Mayfair's aunt and her cruelty knows no bounds as she keeps her niece captive. In her twisted mind she thinks she's saving her from Lasher, but she's also benefiting from all of the wealth Lasher's influence has provided over the years. When Rowan shows up in New Orleans, Carlotta is faced with a woman who isn't swayed by her influence and she'll have to adapt — at all costs — to keep the status quo.
Beth Grant is a character actor known for a number of roles, notably as the frightened woman on the bus who meets a terrible fate in Speed, as Cat Lady in Dollface, Kitty Farmer in Donnie Darko and as the less-than-enthused pageant official in Little Miss Sunshine.
Supporting cast members
Given that the Mayfair family tree has several branches, there are lots of supporting characters that help to bring the series to life.
Hannah Alline (Doom Patrol) plays Suzanne, the first Mayfair witch and the woman who makes the deal with Lasher that ultimately sets the family legacy on a crash course with fate.
Annabeth Gish (Midnight Mass) plays Deirdre Mayfair, Rowan's birth mother. In the present-day story she's being held captive through heavy doses of medication by her aunt Carlotta. Cameron Inman (Sacrifice) plays a young version of Deirdre and through her we see the fateful events that lead to Rowan's birth.
Deneen Tyler (Filthy Rich) is Delphine, Carlotta's loyal housekeeper. She's been with Carlotta through it all, and one of her main responsibilities is ensuring that Dierdre is kept on her medication at all times.
Mayfair Witches premieres January 8 at 9 pm ET/PT on AMC. It is also streaming on AMC Plus.
Get the latest updates, reviews and unmissable series to watch and more!
Editorial Content Producer
Sarabeth joined the Watch to Watch team in May 2022. An avid TV and movie fan, her perennial favorites are The Walking Dead, American Horror Story, true crime documentaries on Netflix and anything from Passionflix. You've Got Mail, Ocean's Eleven and Signs are movies that she can watch all day long.
When she's not working, Sarabeth hosts a podcast dedicated to books and interviews with authors and actors. She's also very close to realizing her lifelong dream of publishing a novel.
Thank you for signing up to Whattowatch. You will receive a verification email shortly.
There was a problem. Please refresh the page and try again.