For the first time ever, Lord Sugar fires THREE candidates on The Apprentice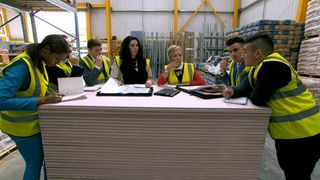 (Image credit: Boundless)
The wrath of Lord Sugar has never been felt more fully in The Apprentice boardroom than in Wednesday's episode when the irate entrepreneur fired three candidates following a disastrous DIY task.
Mergim Butaja, April Jackson and Elle Stevenson were all sacked when their team Versatile dismally failed to produce the goods for their DIY business task of doing odd jobs for Londoners.
Rival team team Connexus led by Brett, managed to pull off a cleaning task at a local football ground. Although they didn't finish it, the customer was satisfied enough to give them most of the money promised!
Versatile secured a contract to renovate a theatre's huge wardrobe, but it went wrong from the start, with a big mix up over tube lengths, and the task only got completed thanks to the DIY skills of plumber team member Joseph.
Then three of Versatile offered their services for measly £10 an hour BETWEEN them (hardly enough to buy a snack let alone run a potential business), while Mergim's attempt to 'screw in a nail' to put up a shelf and painting over a shop sign was right out of Mr Bean's Guide to Do It Yourself.
Verstaile duly lost, and the boardroom was truly brutal. Remarkably, construction operations executive Elle, effectively sacked herself barely having sat down in the boardroom. As the project manager she admitted she was woeful, failing to produce the essential marketing flyers in time. "It was completly my mistake. I don't stand here proud!" she said. So Lord Sugar told her to go immediately.
"Lord Sugar defintiely made the right decision. He'd have been a bloody idiot if he didn't!" Elle admitted.
As sub team leader, Mergim was then asked by Lord Sugar to explain the failure of the task and to choose who to bring back into the boardroom, eventually plumping for April and David.
April never stood a chance, as Lord Sugar had told her earlier in the series she was on a final warning, and she exited. Mergim stabbed her in the back, saying she didn't work as hard as the rest.
But Mergim didn't fare any better, although he may count himself unlucky. The 23-year-old fled war-torn Kosovo with his parents at the age of seven and, despite his hilarious attempts at DIY, Lord Sugar was sufficiently impressed to tell him they would keep in touch.
"You didn't do enough business this time," Lord Sugar told him before ruthlessly despatching him!
Get the latest updates, reviews and unmissable series to watch and more!
Thank you for signing up to Whattowatch. You will receive a verification email shortly.
There was a problem. Please refresh the page and try again.