Former Brookside star Claire Sweeney has her eye on a role in Corrie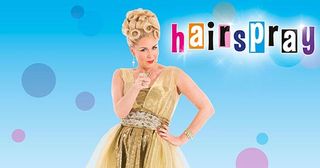 Claire Sweeney chats about starring in Chitty Chitty Bang Bang, her Brookside legacy and her hops of landing a role in Coronation Street
Claire Sweeney tells Soaplife about her new stage role and how she'd love a role behind the bar of the Rovers...
What are you up to, Claire? "I've just finished a tour of Hairspray and I've started rehearsals for Chitty Chitty Bang Bang. I'm joining the tour later this summer and I'll be on the road until February."
Who are you playing? "The Baroness Bomburst. I'm taking over from Michelle Collins. The Baroness is a bit bonkers, but that means she's great fun to play. She treats her husband like a little boy, but she turns on him on the turn of a penny!"
Who looks after your little boy, 21-month-old Jaxon? "He comes with me. He always does. I have a fantastic assistant who looks after him when I'm on stage."
It's 16 years since Brookside finished. Do you still get recognised as Lindsey Corkhill? "Astonishingly, I do. I get, 'Weren't you in Brookside?' or just 'Brookside!', then they try and remember my name or the character name. I think Brookside had a lot of influence on people. It was very ground-breaking for its time. That's why it's still remembered with such affection after all this time."
Would you be up for a Brookside Revisited special? "Of course. I'd love it. There's a real soft spot in my heart for Brookside. I'm still in touch with a lot of my old cast mates, like Mickey Starke, who played Sinbad, and Mark Monaghan, who played Greg Shadwick."
What about joining another soap? "I'd love to be in Coronation Street and work behind the bar of the Rovers. I'd be a barmaid, who also happens to be a secret drinker! They've got a new producer now with Kate Oates, so who knows!"
For more details on Chitty Chitty Bang Bang, visit www.chittythemusical.co.uk
Get the What to Watch Newsletter
The latest updates, reviews and unmissable series to watch and more!