Look who's back: ex Coronation Street star Naomi Radcliffe guests in Casualty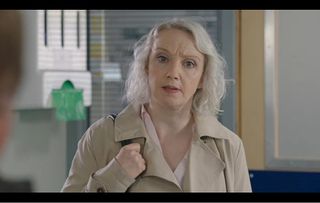 (Image credit: BBC)
She played Alison Webster in Coronation Street 1999 - 2000
Naomi joined Coronation Street as Underworld machinist Alison Wakefield in 1999. She found romance with Kevin Webster and married him in 2000. The couple were thrilled when Alison became pregnant. Sadly, their joy turned to misery when infant son Jake died from an infection that he was likely to have caught from Alison during delivery. Wracked with sorrow Alison had a breakdown and threw herself under a lorry.
Since leaving Coronation Street Naomi starred in BBC1's 1950s-based drama Born And Bred and in comedy series Spotless in 2015.
Now, Naomi stars as secretive Sylvia in Casualty on Saturday (November 25). Sylvia is a mysterious woman who seems to have a dodgy agenda. When Sylvia calls at the Hannigans' home, abandoned and unsupervised brothers Ben and Danny hide. They think she's from social services or the police. When youngest brother Danny collapses, however, desperate teenager Ben runs to Sylvia's car and begs for help. Sylvia races the brothers to Holby ED, but before they go inside she cautions terrified Ben not to let anyone know that he and Danny are living alone… What's sly Sylvia up to?
Get the What to Watch Newsletter
The latest updates, reviews and unmissable series to watch and more!