From Vera to Broadchurch, we love a female detective. Here are 16 of the best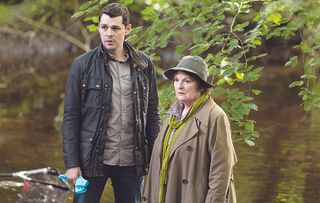 As a new series of Vera begins, there's a glut of female detectives on TV right now, from Ellie Miller in Broadchurch, Jane Tennison in Prime Suspect 1973 and Kate Ashworth in Line of Duty. But these are just a few of the fantastic crime-busting TV female detectives who have been chasing criminals and keeping us entertained over the last 30 years. We look back on a few more...
VERA STANHOPE (Brenda Blethyn)
Despite a somewhat scruffy and dishevelled appearance, Vera Stanhope is thoroughly organised, leaving no stone unturned during her investigations in Northumberland, with a no-nonsense attitude verging on the blunt!
JANE TENNISON (Helen Mirren)
Jane Tennison led the way for female coppers in Prime Suspect during the nineties, battling to be taken seriously in a male-dominated environment. As a female Detective Chief Inspector she had to prove herself against her critics, and was finally promoted to Detective Superintendent.
ELLIE MILLER (Olivia Colman)
Having been born and brought up in Broadchurch, DS Ellie Miller was devastated when faced with the task of investigating the murder of 11-year-old Danny Latimer, the son of a good friend. But she was even more stunned when her husband Joe confessed to committing the crime! Now she's tracking down a rapist in the town, but will her snippy relationship with partner DI Hardy (David Tennant) get in the way?
CAGNEY AND LACEY (Sharon Gless and Tyne Daly)
The New York cops were chalk and cheese, with Mary Beth Lacey juggling family life with her job while her partner Christine Cagney was ambitious and determined to get to the top. But the pair of female detectives was a winning combination, as they enforced the law on the streets of the Big Apple.
SCOTT AND BAILEY (Lesley Sharp and Suranne Jones)
Rachel Bailey and Janet Scott were known as the 'Cagney and Lacey of Manchester'. What made this pair interesting is we got a glimpse into their often troubled and chaotic private lives as they made mistakes but dealt with whatever life threw at them.
STELLA GIBSON (Gillian Anderson)
Cool and collected DSI Stella Gibson was always in control in The Fall as she tracked down serial killer Paul Spector (Jamie Dornan) in Northern Ireland, determined to bring him to justice.
SARA LUND (Sofie Grabol)
Unemotional and focused, Danish female detective Sarah Lund often jarred with her colleagues in The Killing, keeping her cards close to her chest and rubbing people up the wrong way. But she always bagged the villains, so her methods worked, even if her dodgy jumpers didn't!
MAGGIE FORBES (Jill Gascoine)
Way before we even met Jane Tennison in Prime Suspect, DI Maggie Forbes was carving a career in the Metropolitan Police in the Gentle Touch in the early Eighties, fighting crime and sexism at work as a female detective, while raising a teenage son alone after her policeman husband was murdered.
KATE FLEMING (Vicky McClure)
As part of the AC-12 anti-corruption unit in Line of Duty, DS Kate Fleming's sharp attention to detail helped prove the innocence of her colleague DS Steve Arnott (Martin Compston) who was accused of murder, and routed out the real corrupt officer, DS Matt Cottan.
ROSIE MCMANUS (Lindsey Coulson)
In The Bill spin-off M.I.T: Murder Investigation Team, DC Rosie McManus got stuck in to investigating all kinds of murders. Her hard work paid off when the female detective was eventually was promoted to sergeant.
CASSIE STEWART (Nicola Walker)
Unforgotten's DCI Cassie Stewart has a hard but sensitive approach when investigating cold cases. Along with her partner, DI Sunny Khan (Sanjeev Bhaskar), she finds the answers to long dormant mysteries, murders and missing person cases, bringing peace to victims' families.
VIV DEERING (Joanna Scanlan)
Bold and mouthy, DI Viv is a female detective who commands the respect of her team with her often unorthodox approach to policing in No Offence. But she turned criminal herself when she covered up the murder of her husband who she discovered was a serial killer!
JANINE LEWIS (Caroline Quentin)
After being promoted, DCI Janine Lewis found herself balancing a demanding career with bringing up four children while battling her ex husband, who has a new family in Blue Murder. Luckily support came from her DI Richard Mayne (Ian Kelsey), who helped her professionally and personally.
ANNIE CABBOT (Andrea Lowe)
It seemed like DS Annie Cabbot would never get together romantically with her colleague and boss DCI Banks (Stephen Tompkinson), but just as they finally did, livewire cop Annie followed up a lead off her own bat and ended up dead!
SAGA NOREN (Sofia Helin)
Her powers of deduction are excellent, but Saga struggles with empathy and has communication issues, isolating her from the rest of her team in Danish/Swedish cop drama The Bridge. But deep down she has a heart of gold, and harbours a deep sadness over the death of her sister.
KATE ASHURST (Caroline Catz)
Tackling crime out in the suburbs, DI Kate Ashhurt partnered up with DS Emma Scribbens (Lisa Faulkner) in the town of Middleford in Murder in Suburbia, investigating stabbings, drownings and hit and run killings.
Thank you for signing up to Whattowatch. You will receive a verification email shortly.
There was a problem. Please refresh the page and try again.