Game of Thrones actor Aidan Gillen reveals all about playing comedy genius Dave Allen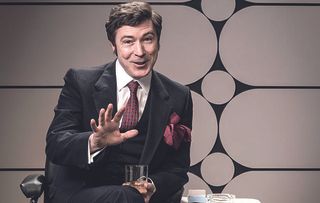 (Image credit: BBC/Darlow Smithson Productions/)
Aidan plays Dave Allen in an affectionate biopic on BBC2 on Easter Monday at 9pm...
With his wry lampooning of marriage and religion – including his trademark sign-off catchphrase, "May your god go with you" – Dave Allen was a well-loved and ground-breaking TV comedian.
On Easter Monday Irish comedian Dave Allen, who died in 2005 aged 68, is played in a BBC2 biopic by Game of Thrones actor Aidan Gillen. Here, Aidan Gillen, 49, tells TV Times more…
What take does the drama have on Dave's life?
Aidan Gillen: "We're trying to capture the essence of the man from early childhood, so it's snapshots of his relationships. It is also about how he was ahead of his time, especially compared to contemporaries like Dick Emery or Benny Hill."
What made him different?
AG: "He seemed to talk off the cuff and that set him apart. He had warmth and intelligence but didn't compromise with material and wasn't afraid to rock the boat; he was provocative. The hypocrisies of the Church are old news now, but nobody else targeted it like he did. Other programming back then was pretty staid but he shone out because he was brave."
He lost part of his index finger in an accident as a child. What impact did it have on him?
AG: "It was certainly a defining feature of his comedy. In our drama, Dave's father tells him to use that finger well, because it'll be a great source of stories for him – and to never to tell the truth about how he lost it!"
What was it like doing routines in Dave's style?
AG: "I was nervous about getting on that stool and doing monologues, but once we started I wished we'd done more. I've toyed with the idea of doing stand-up myself but I think it would end badly!"
Dave Allen at Peace is on Easter Monday at 9pm on BBC2.
Get the latest updates, reviews and unmissable series to watch and more!
Thank you for signing up to Whattowatch. You will receive a verification email shortly.
There was a problem. Please refresh the page and try again.