George Takei: Star Trek's Mr Sulu turns Ninja!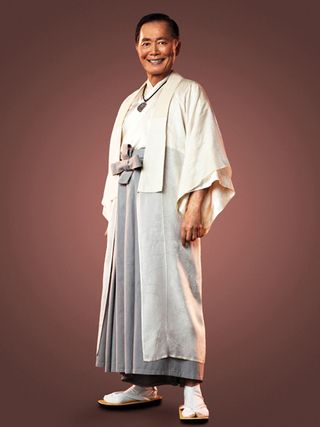 (Image credit: NICKELODEON)
Best known as Star Trek's Mr Sulu, George Takei is about to star in Nickelodeon's new children's series Supah Ninjas. This new American comedy drama follows three young crimefighters who are still at high school. George plays Hologramps, the dead grandfather of school kid Mike, who appears as a hologram to teach Mike and his pals the mysterious ways of the Ninja. George spoke exclusively to What's On TV about filming Supah Ninjas, Star Trek and his Second World War experiences.... So what was it about Supah Ninjas that attracted you to the project? "Well, to be totally frank, I haven't had a series in some time, something like a couple of years. The last time I had a recurring character was in Heroes, so that was my first practical attraction. But then I found that it was going to be working with young people and I love kids. I have two surrogate kids - my nephew's two little ones - who are the apples of my eyes. It was also an opportunity to work with young teenagers and working regularly at Paramount Studios again, which is where I grew up with Star Trek. So it's nostalgia and revivification all in one. "I park my car and I walk by a brand new office building that they named after Gene Roddenberry, the creator of Star Trek, and he never had his office there, but there's his name! And then I walk past stage 31 where the Enterprise set was, and then 32 where the Alien Planet Surface set was, and then I head on to stage 24, where my new High Tech Dojo set is – so I get to walk down memory lane as I walk down to my present, in which I play a dead person [laughs]." Hologramps is a very interesting character, being dead and giving advice to his young grandson as a hologram... "It gets much more interesting as you move along. I love singing in the shower and I let that be known to them, so they worked in a song number for me as well. That comes in a later episode." Many of us remember you singing on I'm A Celebrity, that song Joe Swash taught you? 'Ollie, ollie, ollie, Tits on the trolley!' Do you still remember that? "[Laughs heartily] Yes, I certainly do, thanks to Joe." In that white, long, flowing gown, Hologramps looks very much like Mr Spock in Star Trek IV: The Voyage Home... "Ah, yes. There is a great echo of Star Trek in it throughout." There's also an echo of Batman as well, in that there's a high-tech cave under Mike's bed where he goes to meet Hologramps. It's very Batcave-like... "And our villains are kind of Batman-like, too – like The Rhymer, who's a modern day Riddler in that he raps. Oh, and there's bigger and weirder to come!" So do you think Supah Ninjas is building on the popularity of films like Karate Kid? Or are there other bigger influences? "Well, I think it's the merging of a lot of things. First of all, certainly with me, there's that echo of Star Trek, the science fiction. And then certainly Batman and the larger than life villains we have, plus as you well point out, the cave is an echo of Batman. And for me, another aspect is the Ninja aspect. "I really did grow up with Samurai and Ninja movies. When I was a child I was behind the barbed wire fences of US internment camps, and on irregular occasions after dinner they would clear out the mess hall and show old Hollywood movies, but occasionally they'd show old Japanese movies that were imported before Second World War. These were Samurai movies, but also some Ninja movies. Those movies were my escape from those barbed wire fences, so they mean a great deal to me. Ninjas combine so much of my life, my memory, and my experiences..." Did you ever train in martial arts? "I did the basics of karate, just because with my face I get asked to do martial arts in films and stuff, and certainly in Star Trek I did that. So I did get the basic training, but I will always tell people that I'm not in any way expert at it because there are always people that like to show off their martial arts training and demonstrate it with me. I tell them no, no, I'm not on that level!" What's it like working with the kids on Supah Ninjas? "First of all, they're very talented, but I love their energy and their wit. For example, Ryan Potter who plays Mike, might be struggling with a scene and we do it more than a few times, and when he finally gets it he does this victory dance with the fingers snapping and the shoulders going. I think it's so charming and I try to imitate that! That also gets a big laugh. But there's this energy – palpable energy – on the set with young people. "Carlos Knight who plays Owen is a very witty guy and he's a great improviser. The script might say 'exit', but the way he exits becomes another development of his character, so he's another fun guy to work with. With Gracie Dzienny, who is Amanda, she and I love musical theatre, but she's young so she doesn't know some of the classic musicals – the Cole Porter ones [breaks into song], so I have to teach her some of the classic songs." Do you want to update your autobiography To The Stars? It was finished in 1994 and so much has happened since... "Exactly. I am plotting out my second autobiography. The first one was called 'To The Stars', and the next one is going to be titled 'Down to Earth'. My life after 'To the Stars' has been full and rich, but also that life has been influenced by some of the things I didn't write about during that period, so I'll be going back as well. There was an obvious omission in terms of personal relationships in 'To The Stars'." Obviously Star Trek is the main thing that you've done in your career. What are your best memories of it? "It's still very much with us. Last weekend we had another big anniversary convention in Las Vegas. And Paramount is planning another film next year, to be released either late 2012 or the summer of 2013, so I fully expect us to be celebrating the golden anniversary of Star Trek in just five more years. "I think the best gift I got from Star Trek are some of the friendships. With so many TV or movies you become friends while you're working and you might sporadically keep up the relationship, but with Star Trek my work colleagues have become real, good, genuine friends. Nichelle Nicholls (Uhura) and Walter Koenig (Chekov) were part of mine and Brad's wedding party; she was the matron of honour and Walter was the best man. Nichelle didn't like the word 'matron', so we called her the best lady to be equal to the best man." And you still see them quite a bit, do you? "At the convention in Las Vegas we took Nichelle out for dinner because she was there alone... we took her to a show and then dinner. We saw Barry Manilow and had dinner at the Eiffel Tower, which was lovely, with a great view of Lake Como. Would you believe it, in the middle of the desert in Nevada? There's Lake Como! [Laughs]" Do you still see Leonard Nimoy (Spock) at all? "Yes, I see him fairly regularly and we are political compatriots. As a matter of fact, when the human rights campaign decided to give me the equality award for my campaign for equality for gay, lesbian, bisexual and transgender people, Leonard was the one who gave me the award and then he said some glowing, laudatory lies about me! [Laughs] So yeah, he's a very good friend." What about William Shatner (Captian Kirk); you've had some things to say about him before? "As a matter of fact, at the Vegas convention, we were walking down one of the back corridors of the hotel the convention was at and there was a couple of people marching down towards us, and I really didn't see Bill because he was surrounded by all his bodyguards, but I heard this voice say, 'Hello, George' and I looked and it was Bill! "I said hi, but I had to be on stage… he was coming off stage and I was going on. We do still speak to each other, yes. 'Hi, George!' and 'hi, Bill!' and that's about it. We exchange pleasantries. He is a fascinating, charismatic guy, but so self-possessed, and that becomes a little bit of a strain. But he has mellowed..." *Supah Ninjas, begins on Nickelodeon, at 6pm, on 12 September
Get the What to Watch Newsletter
The latest updates, reviews and unmissable series to watch and more!
The What's on TV team brings you everything you need to know about the world of TV. We have all the information on what is happening in the soaps, what you can't afford to miss on television and which new shows and series are launching. Our handy guides, to all the latest TV shows, bring you everything you need to know about new launches, returning series and must-see events so that you don't miss a thing..