Gillian Anderson reveals she thought she looked 'horrible' in The X Files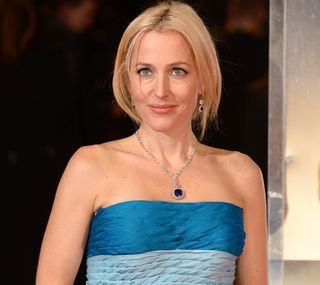 (Image credit: PA Wire/Press Association Images)
Gillian Anderson has admitted when she looks back herself in The X Files she doesn't like the way she looked.
The 45-year-old actress - now known for playing the extremely glamorous police officer Stella Gibson in BBC's The Fall - played Agent Dana Scully in the hit sci-fi show for nine years until 2002.
"The odd thing is that even when I was put in those horrible pastel Lycra suits, there wasn't a single part of me that considered saying, 'Whoa! Wait one second!'," Gillian (opens in new tab) says.
"Likewise with the hair. I was made to have red hair, styled in a particular way, but you'd have thought I might have done something with it off screen... still I didn't bother, because I was so exhausted.
"So for nine years I went to work and was somebody else, without devoting any time or attention to the way I looked.
"Now, when I look back at images of myself in those horrible fashion decisions, with my weight fluctuating all the time, I can't believe it."
The actress's amazing skin and perfect hair are now envied by many, but she admits she did have a point where she mourned her youth.
"I did have a very pathetic, existential moment a few years ago," Gillian revealed.
"I'd been filming something where I was a couple of decades older than everybody else and I remember spending a day mourning my youth - literally weeping.
"Afterwards I talked to women about it and found out that it's not uncommon and potentially a healthy thing to do."
The Fall (opens in new tab), series two, is filming now and is expected to air on BBC2 end of 2014/beginning of 2015.
Thank you for signing up to Whattowatch. You will receive a verification email shortly.
There was a problem. Please refresh the page and try again.